Stake History
2016 Yamoransa Stake Creation
A new stake has been created from the Cape Coast Ghana Stake and the Ghana Cape Coast Mission. The Yamoransa Ghana Stake, which consists of the Abakrampa, Abura Dunkwa, Asebu, Mankessim 1st and the Mankessim 2nd branches and the Green Hill, Moree 1st, Moree 2nd, Nkanfoa, Yamoransa 1st and Yamoransa 2nd wards, was created by Elder Vern Perry Stanfill, a General Authority Seventy, and Elder M.  T. Ben Davis, an Area Seventy.[1]
(May 22, 2016) President — Frank Bobby Davies, 43, technical educationalist; wife, Judith Emefa Krakani. Counselors — Augustus Dontoh, 36, classroom tutor; wife, Millicent Kiendy Dontoh. Andrew Kweku Aikins, 34, teacher; wife, Mary Bosomtwe Aikins. There are now 17 stakes and 11 districts in Ghana.
2018 South Stake Creation
The Church organized a new stake in Central Region. The Assin Foso Ghana South Stake was organized on September 9th from a division of the Assin Foso Ghana Stake and the Yamoransa Ghana Stake. The new stake includes the following five wards and six branches: the Abakrampa, Assin Achiasi, Assin Foso 1st, Assin Foso 2nd, and Paramu Wards, and the Abura Dunkwa, Asebu, Assin Akrofuom, Assin Anynabrem, Assin Darmang, and Assin Edubiase Branches. The new stake is the Church's third new stake organized in Central Region since 2015. There are now six stakes and two districts in Central Region.[2]
2021 New Stake Presidency
YAMORANSA GHANA STAKE: (April 18, 2021) President — Frederick Antwi Sr., 66, retired accountant; succeeding Frank B. Davies; wife, Victoria Ampong Antwi. Counselors — Richard Yao Hammah, 60, REC Leslie Electricals CEO; wife, Charlotte Dawdah Hammah. Paul Essilfie, 37, Ghana Education Service supervisor instructor; wife, Juliana Efua Awotwe Essilfie.[3]
Ghana Home Centered Church Opportunities
We teach that true religion begins in the home: "Home Centered / Church Supported". To that end families may consider the following local resources and programs to strengthen your core beliefs and values:

1. Come Follow Me: - Daily & Weekly family gospel study
2. Vanguard Scouting: - Featuring age-appropriate Family Activities, Service, Crafts, Field Trips, & Outdoor Adventures. The Benefits of Scouting are many, and there are lots of personal growth ideas to help your family pursue the new Churchwide Children & Youth Program.
3. LIFE School Curriculum: an LDS gospel based homeschool program that is built on the foundation of the scriptures, giving the child a sense of who he is and setting him on the path of discovering his divine mission. It is presented in a four year chronological rotation, integrating all areas of study to create a clear picture of the history of our world.
4. Family History: Resources to help you explore your family tree
Mormon Pioneers - 200+ stories of early faithful Latter-day Saint pioneers.
Familypedia - Come help build Ghana's largest Family History online Encyclopedia.

5. Local Recreation:
Ghana Scouting - Outdoor Trails, camping, museums and other family attractions.
Pioneer Treks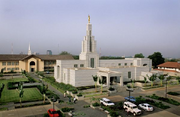 The Accra Ghana Temple is the 117th operating temple of The Church of Jesus Christ of Latter-day Saints (LDS Church) and the 1st temple completed in Ghana, after second African temple after Johannesburg South Africa Temple (1985). The tradition of holding a youth cultural celebration before the dedication of a temple began with the dedication of the Accra Ghana Temple at the request of President Gordon B. Hinckley.
See Also
References