AKA: Winnipeg Manitoba Stake (1978)
Stake History
Winnipeg Stake: 1978
The Canada Winnipeg Mission was created on 1 March 1976 with about 4,200 members in four districts, including those in Saskatchewan and western Ontario. The Winnipeg Manitoba Stake was created 12 November 1978 by Elder L. Tom Perry of the Quorum of the Twelve. A new stake center was dedicated on November 1988, and stake membership reached 2,500.
At one of the largest gatherings ever in Manitoba on 4 August 1998, President Gordon B. Hinckley, accompanied by President Boyd K. Packer, acting president of the Quorum of the Twelve, spoke to about 1,500 members of the Winnipeg Stake and Fort Francis Ontario District.
2021 New Stake Division
The Church organized its second stake in Manitoba, Canada on November 14th, 2021. The Winnipeg Manitoba West Stake was organized from a division of the Winnipeg Manitoba Stake (originally organized in 1978 and renamed the Winnipeg Manitoba East Stake). The new stake includes the follow five wards and five branches: the Brandon, River Heights, St James, Waverley, and Wellington YSA Wards, and the Dauphin, Neepawa, Portage La Prairie, Selkirk, and Thompson Branches. Also, the Church discontinued the Fort Francis Ontario District (organized in 1970) as part of the new stake creation, and retained branches were reassigned to the Winnipeg Manitoba East Stake. There are now 53 stakes and four districts in Canada. [1]
Manitoba Home Centered Church Opportunities
We teach that true religion begins in the home: "Home Centered / Church Supported". To that end families may consider the following local resources and programs to strengthen your core beliefs and values:

1. Come Follow Me: - Daily & Weekly family gospel study
2. Vanguard Scouting: - Featuring age-appropriate Family Activities, Service, Crafts, Field Trips, & Outdoor Adventures. The Benefits of Scouting are many, and there are lots of personal growth ideas to help your family pursue the new Churchwide Children & Youth Program.
3. LIFE School Curriculum: an LDS gospel based homeschool program that is built on the foundation of the scriptures, giving the child a sense of who he is and setting him on the path of discovering his divine mission. It is presented in a four year chronological rotation, integrating all areas of study to create a clear picture of the history of our world.
4. Family History: Resources to help you explore your family tree
Mormon Pioneers - 200+ stories of early faithful Latter-day Saint pioneers.
Familypedia - Come help build Manitoba's largest Family History online Encyclopedia.

5. Stripling Warriors on Facebook - LDS Youth who strive to build up Zion in their own communities.
6. Local Recreation:
Manitoba Scouting - Outdoor Trails, camping, museums and other family attractions.
Pioneer Treks -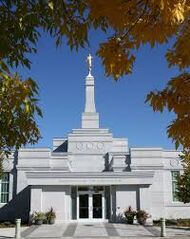 The Regina Saskatchewan Temple is the 65th operating temple of The Church of Jesus Christ of Latter-day Saints, the 4th temple built in Canada and the 1st temple built in Saskatchewan. It was dedicated on the same day as the Halifax Nova Scotia Temple, marking the first time that two dedications were held on the same day.
See Also
References