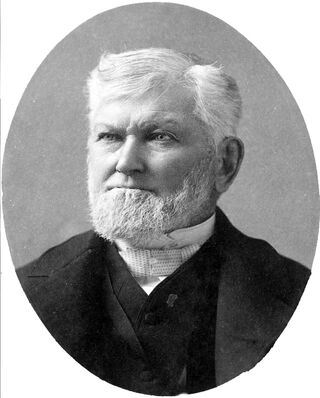 Wilford Woodruff was an American religious leader who served as the fourth president of The Church from 1889 until his death in 1898. He formally ended the practice of plural marriage among the members of the LDS Church in 1890.
Woodruff joined the Latter Day Saint church after studying Restorationism as a young adult. He met Joseph Smith in Kirtland, Ohio, before joining Zion's Camp in April 1834. He stayed in Missouri as a missionary, preaching in Arkansas and Tennessee before returning to Kirtland. He married his first wife, Phebe, that year and served a mission in New England. Joseph Smith called Woodruff to be a member of the Quorum of the Twelve Apostles in July 1838, and he was ordained in April 1839. Woodruff served a mission in England from 1839 until 1841, leading converts from England to Nauvoo.
After government disenfranchisement of polygamists and women in Utah Territory, and seizure of church properties which threatened to extend to temples, Woodruff ended the church's official support of new polygamous marriages in the 1890 Manifesto. Woodruff died in 1898 and his detailed diaries provide an important record of Latter Day Saint history. [1]
The church completed and dedicated the Manti and Salt Lake temples during his tenure. Woodruff also established Bannock Academy in Rexburg, Idaho, which later became Ricks College and Brigham Young University–Idaho.
References
↑ [Baugh, Alexander L.; Black, Susan, eds. (2010). Banner of the Gospel: Wilford Woodruff. Provo, Utah: Religious Studies Center, Brigham Young University. ISBN 978-0-8425-2776-7. OCLC 658200536.]
See Also