Historia de Estaca
Oportunidades de Iglesia Centrada en el Hogar de España
Enseñamos que la verdadera religión comienza en el hogar: "Centrado en el hogar / Iglesia apoyada". Con ese fin, las familias pueden considerar los siguientes recursos y programas locales para fortalecer sus creencias y valores centrales:

1. [https://www.churchofjesuschrist.org/study/come-follow-me/individuals-and-families?lang=eng Ven, sígueme]: - Estudio diario y semanal del evangelio familiar
2. Vanguard Scouting: - Con actividades familiares, servicios, manualidades, excursiones y aventuras al aire libre apropiadas para la edad. The [https://en.scoutwiki.org/Benefits_of_Scouting Beneficios del Movimiento Scout] son muchas, y hay muchas ideas de crecimiento personal para ayudar a su familia a seguir el nuevo Programa de Niños y Jóvenes de toda la Iglesia.
3. LIFE School Curriculum: Programa de educación en el hogar basado en el evangelio SUD que se construye sobre la base de las Escrituras, que le da al niño una idea de quién es y lo coloca en el camino de descubrir su misión divina. Se presenta en una rotación cronológica de cuatro años, integrando todas las áreas de estudio para crear una imagen clara de la historia de nuestro mundo.
4. Historial familiar: Recursos para ayudarlo a explorar su árbol genealógico
Mormon Pioneers - 200+ historias de los primeros pioneros fieles de los Santos de los Últimos Días.
Familypedia - Ven a ayudar a construir la enciclopedia en línea de historia familiar más grande de España.

5. Local Recreation:
Senderos al aire libre, campamentos, museos y otras atracciones familiares.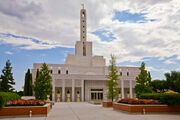 The Madrid Spain Temple is the 56th operating temple of The Church of Jesus Christ of Latter-day Saints, (LDS Church) and the 1st temple completed in Metropolitan Spain. The Madrid Spain Temple is part of a complex with a stake center and patron housing facility often referred to as the "Temple Square of Madrid."
See Also
References