Obi-Wan Finale - The Loop
Play Sound
Central Florida Home Centered Church Opportunities
We teach that true religion begins in the home: "Home Centered / Church Supported". To that end families may consider the following local resources and programs to strengthen your core beliefs and values:

1. Come Follow Me: - Daily & Weekly family gospel study
2. Vanguard Scouting: - Featuring age-appropriate Family Activities, Service, Crafts, Field Trips, & Outdoor Adventures. The Benefits of Scouting are many, and there are lots of personal growth ideas to help your family pursue the new Churchwide Children & Youth Program.
3. National LDS Homeschool Association: an LDS gospel based homeschool program Strengthening families by building connections, sharing resources, and providing training.
4. Family History: Resources to help you explore your family tree
Mormon Pioneers - 200+ stories of early faithful Latter-day Saint pioneers.
Familypedia - Come help build Georgia's largest Family History online Encyclopedia.

5. Stripling Warriors on Facebook - LDS Children preparing to build Zion and around the world.
6. Local Recreation: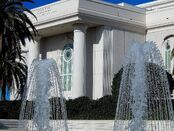 Orlando Florida Temple sits overlooking a chain of lakes on the edge of the Orlando suburb of Windermere in an area described as one of Florida's most beautiful locations. The temple is characterized by its white exterior, graceful columns, arched windows, and delightful water features. Palms trees and shrubs are planted generously across the temple grounds that are open to the public.
See Also
References