Line 31:
Line 31:
 

** [https://religion.wikia.org/wiki/Mormon_Pioneers_A Pioneros Mormones] - 200+ historias de los primeros pioneros fieles de los Santos de los Últimos Días.

 

** [https://religion.wikia.org/wiki/Mormon_Pioneers_A Pioneros Mormones] - 200+ historias de los primeros pioneros fieles de los Santos de los Últimos Días.

 

** [https://familypedia.wikia.org/ Familypedia] - Ven a ayudar a construir la enciclopedia en línea de historia familiar más grande de México.

 

** [https://familypedia.wikia.org/ Familypedia] - Ven a ayudar a construir la enciclopedia en línea de historia familiar más grande de México.

 
+

<br />5. '''[https://www.facebook.com/groups/477593517252368 Stripling Warriors on Facebook]''' - LDS Niños preparándose para construir Sión en todo México y el mundo.

−

<br />5. '''Recreación Local:'''

+

<br />. '''Recreación Local:'''

 

** [https://en.scoutwiki.org/Scouting_and_Guiding_in_Mexico Mexico Scouting] - Senderos al aire libre, campamentos, museos y otras atracciones familiares.

 

** [https://en.scoutwiki.org/Scouting_and_Guiding_in_Mexico Mexico Scouting] - Senderos al aire libre, campamentos, museos y otras atracciones familiares.

 

** Pioneer Treks

 

** Pioneer Treks
---
Latest revision as of 04:48, 2 March 2022
Historia de Estaca
2021 Nueva Presidencia de Estaca
VERACRUZ MÉXICO MOCAMBO STAKE: (June 6, 2021) President — Rafael Montenegro Castro, 36, Grupo M director and owner, Estaciona_T owner and restaurant legal representative; succeeding Roberto Castañeda Haro; wife, Cristina de Montenegro Soriano. Counselors — Juan Gaytan Lozano, 51, business owner; wife, Lourdes de Gaytan Morales. Juan Carlos Hernandez Lastra, 35, Mecanica Tek SA de CV warehouse manager; wife, Sasha Pamela Maya Martinez.[1]
Oportunidades de Iglesia Centrada en el Hogar de México
Enseñamos que la verdadera religión comienza en el hogar: "Centrado en el hogar / Iglesia apoyada". Con ese fin, las familias pueden considerar los siguientes recursos y programas locales para fortalecer sus creencias y valores centrales:

1. Ven, Sígueme: - Estudio diario y semanal del evangelio familiar
2. Vanguard Asociación de Scouts: - Con actividades familiares, servicios, manualidades, excursiones y aventuras al aire libre apropiadas para la edad.Los beneficios de explorar son muchas, y hay muchas ideas de crecimiento personal para ayudar a su familia a seguir el nuevo Programa de Niños y Jóvenes de toda la Iglesia.
3. LIFE Currículum escolar: un programa de educación en el hogar basado en el evangelio SUD que se basa en las bases de las Escrituras, que le da al niño una idea de quién es y lo coloca en el camino de descubrir su misión divina. Se presenta en una rotación cronológica de cuatro años, integrando todas las áreas de estudio para crear una imagen clara de la historia de nuestro mundo.
4. Historia Familiar: Recursos para ayudarlo a explorar su árbol genealógico
Pioneros Mormones - 200+ historias de los primeros pioneros fieles de los Santos de los Últimos Días.
Familypedia - Ven a ayudar a construir la enciclopedia en línea de historia familiar más grande de México.

5. Stripling Warriors on Facebook - LDS Niños preparándose para construir Sión en todo México y el mundo.
6. Recreación Local:
Mexico Scouting - Senderos al aire libre, campamentos, museos y otras atracciones familiares.
Pioneer Treks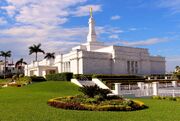 El Templo de Veracruz es el 93 templo en funcionamiento de La Iglesia de Jesucristo de los Santos de los Últimos Días (Iglesia SUD) y el 10er templo terminado en México.
Ver también
Referencias