Stake History
2021 Stake Division
The Church organized a new stake in Idaho. The Twin Falls Idaho East Stake was organized on August 29th from the Kimberly Idaho Stake and the Twin Falls Idaho Stake. The new stake includes the following seven wards: the Eastbrooke, Twin Falls 1st, Twin Falls 7th, Twin Falls 11th, Twin Falls 15th, Twin Falls 19th, and Twin Falls YSA 1st Wards. It was created by Elder Arnulfo Valenzuela, General Authority Seventy, and Elder Kevin J. Hathaway, an Area Seventy. There are now four stakes in the immediate Twin Falls area (with two additional stakes nearby in Filer and Kimberly). There are now 135 stakes in Idaho.[1]
TWIN FALLS IDAHO EAST STAKE: (Aug. 29, 2021) President — Larry Scott Kloepfer, 45, Kloepfer Inc. vice president; wife, Holly Jean Searle Kloepfer. Counselors — David Bruce Perry, 52, Glanbia Nutritionals senior director of research and development; wife, Tammy Thompson Perry. Daniel Richard Western, 41, DH Western Inc. and DBA Western Connections owner; wife, Hilary Lynn Sutton Western.[2]
Twin Falls County Home Centered Church Opportunities
We teach that true religion begins in the home: "Home Centered / Church Supported". To that end families may consider the following local resources and programs to strengthen your core beliefs and values:

1. Come Follow Me: - Daily & Weekly family gospel study
2. Vanguard Scouting: - Featuring age-appropriate Family Activities, Service, Crafts, Field Trips, & Outdoor Adventures. The Benefits of Scouting are many, and there are lots of personal growth ideas to help your family pursue the new Churchwide Children & Youth Program.
3. LIFE School Curriculum: an LDS gospel based homeschool program that is built on the foundation of the scriptures, giving the child a sense of who he is and setting him on the path of discovering his divine mission. It is presented in a four year chronological rotation, integrating all areas of study to create a clear picture of the history of our world.
4. Family History: Resources to help you explore your family tree

5. Local Recreation: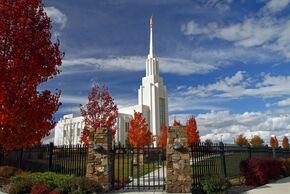 The Twin Falls Idaho Temple is the 128th operating temple of The Church of Jesus Christ of Latter-day Saints. Inspired particularly by the magnificent Shoshone Falls—just a 5-mile drive from the temple—the exterior design of this holy house incorporates a waterfall theme in its walls, its stained-glass windows, and its attractive landscaping including a pair of waterfall features at the temple's entrance.
See Also
References