Estaca Tocumen Panama
Historia de Estaca
2021 Nueva Presidencia de Estaca
TOCUMEN PANAMÁ STAKE: (June 6, 2021) President — Jose Pablo Gaona Medina, 47, lawyer; succeeding Camilo D. Mena Dominguez; wife, Carmen Amanda Chase Gaona. Counselors — Emiliano Valdes Cedoño, 48, The Church of Jesus Christ of Latter-day Saints mechanic; wife, Noris Edith Batista Mendoza De Valdes. Roy Andrés Hernández, 36, La Prensa graphic designer; wife, Darling Ana Calderón Ortega.[1]
Oportunidades de Iglesia Centrada en el Hogar de Panama
Enseñamos que la verdadera religión comienza en el hogar: "Centrado en el hogar / Iglesia apoyada". Con ese fin, las familias pueden considerar los siguientes recursos y programas locales para fortalecer sus creencias y valores centrales:

1. Ven, Sígueme: - Estudio diario y semanal del evangelio familiar
2. Vanguard Asociación de Scouts: - Con actividades familiares, servicios, manualidades, excursiones y aventuras al aire libre apropiadas para la edad.Los beneficios de explorar son muchas, y hay muchas ideas de crecimiento personal para ayudar a su familia a seguir el nuevo Programa de Niños y Jóvenes de toda la Iglesia.
3. LIFE Currículum escolar: un programa de educación en el hogar basado en el evangelio SUD que se basa en las bases de las Escrituras, que le da al niño una idea de quién es y lo coloca en el camino de descubrir su misión divina. Se presenta en una rotación cronológica de cuatro años, integrando todas las áreas de estudio para crear una imagen clara de la historia de nuestro mundo.
4. Historia Familiar: Recursos para ayudarlo a explorar su árbol genealógico
Pioneros Mormones - 200+ historias de los primeros pioneros fieles de los Santos de los Últimos Días.
Familypedia - Ven a ayudar a construir la enciclopedia en línea de historia familiar más grande de Panama.

5. Stripling Warriors on Facebook - LDS Niños preparándose para construir Sión en todo México y el mundo.
6. Recreación Local: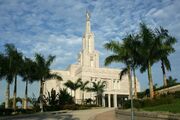 El Templo de Ciudad Panama es el 127 templo en funcionamiento de La Iglesia de Jesucristo de los Santos de los Últimos Días (Iglesia SUD) y el primero templo terminado en Panama. Este templo está en una ladera alta con vista al famoso Canal de Panamá, recorrido por barcos y embarcaciones de todo el mundo. El templo se encuentra adyacente al centro de reuniones de Cárdenas y una gran instalación en la parte trasera de la propiedad ofrece alojamiento para la presidencia del templo, los misioneros del templo y los patrocinadores del templo. El hermoso paisaje está salpicado de numerosas palmeras, follaje colorido y una característica de agua serena.
Ver también
Referencias