Estaca Santiago Chile Talagante
Historia de Estaca
2020 New Stake Presidency
TALGANTE CHILE STAKE: (Aug. 2, 2020) President — Ivan David Bilbao Barrenechea, 33, teacher, DUOC UC; succeeding Cesar M. Saez; wife, Maritza Elena Lastres Ramos. Counselors — Diego Felipe Loyola Silva, 34, head of insurance and maintenance, Ezentis Group; wife, Vanessa Alejandra Ortiz Arancibia. Henry Alberto Catricura Jara, 40, senior accountant, Agroreservas de Chile SpA; wife, Carolina Saray Catricura Lopez Riffo.[1]
Oportunidades de Iglesia Centrada en el Hogar de Chile
Enseñamos que la verdadera religión comienza en el hogar: "Centrado en el hogar / Iglesia apoyada". Con ese fin, las familias pueden considerar los siguientes recursos y programas locales para fortalecer sus creencias y valores centrales:

1. Ven, Sígueme: - Estudio diario y semanal del evangelio familiar
2. Vanguard Asociación de Scouts: - Con actividades familiares, servicios, manualidades, excursiones y aventuras al aire libre apropiadas para la edad.Los beneficios de explorar son muchas, y hay muchas ideas de crecimiento personal para ayudar a su familia a seguir el nuevo Programa de Niños y Jóvenes de toda la Iglesia.
3. LIFE Currículum escolar: un programa de educación en el hogar basado en el evangelio SUD que se basa en las bases de las Escrituras, que le da al niño una idea de quién es y lo coloca en el camino de descubrir su misión divina. Se presenta en una rotación cronológica de cuatro años, integrando todas las áreas de estudio para crear una imagen clara de la historia de nuestro mundo.
4. Historia Familiar: Recursos para ayudarlo a explorar su árbol genealógico
Pioneros Mormones - 200+ historias de los primeros pioneros fieles de los Santos de los Últimos Días.
Familypedia - Ven a ayudar a construir la enciclopedia en línea de historia familiar más grande de Chile.

5. Recreación Local: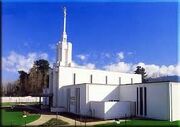 El Templo de Santiago Chile es el 24 templo en funcionamiento de La Iglesia de Jesucristo de los Santos de los Últimos Días (Iglesia SUD) y el primero templo terminado en Chile (1983).
Situado en el distrito de Providencia de Santiago, el sitio de este templo se conoce localmente como "Plaza del Templo". Compartiendo el bloque se encuentran un centro de reuniones, oficinas de área, centro de distribución, sede de la misión y viviendas para clientes. Hermosos árboles maduros se alinean en la parte delantera del templo mientras encantadores jardines llenan los terrenos detrás del templo, acentuados por una fuente de agua de punto focal.
Ver también
Referencias