Stake History
2020 New Stake Presidency
SYRACUSE NEW YORK STAKE: (June 21, 2020) President — David Joseph Larsen, 54, St Joseph's Health director of performance excellence; succeeding R. Kent Stuetz; wife, Mylisa Jones Larsen. Counselors — Todd William Moss, 47, Whitman School of Management, Syracuse University associate professor, department chair and faculty director; wife, Jenifer Jean Lafferty Moss. Scott Read Hale, 48, Federal Aviation Administration computer specialist; wife, Jolene Luke Hale.[1]
Onondaga County Home Centered Church Opportunities
We teach that true religion begins in the home: "Home Centered / Church Supported". To that end families may consider the following local resources and programs to strengthen your core beliefs and values:

1. Come Follow Me: - Daily & Weekly family gospel study
2. Vanguard Scouting: - Featuring age-appropriate Family Activities, Service, Crafts, Field Trips, & Outdoor Adventures. The Benefits of Scouting are many, and there are lots of personal growth ideas to help your family pursue the new Churchwide Children & Youth Program.
3. LIFE School Curriculum: an LDS gospel based homeschool program that is built on the foundation of the scriptures, giving the child a sense of who he is and setting him on the path of discovering his divine mission. It is presented in a four year chronological rotation, integrating all areas of study to create a clear picture of the history of our world.
4. Family History: Resources to help you explore your family tree
Mormon Pioneers - 200+ stories of early faithful Latter-day Saint pioneers.
Familypedia - Come help build New York's largest Family History online Encyclopedia.

5. Stripling Warriors on Facebook - LDS Children preparing to build Zion and around the world.
6. Local Recreation: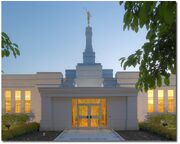 The Palmyra New York Temple is the 77th operating temple of The Church of Jesus Christ of Latter-day Saints. This is the first temple built in New York. Situated on an elevated ridge just beyond the Sacred Grove where God the Father and Jesus Christ appeared to Joseph Smith in the spring of 1820, the Palmyra New York Temple—a House of the Lord—stands as a testimony to that singular event. Rich in Church history, the Palmyra landscape is dotted with historic sites including the Hill Cumorah Visitors' Center where Joseph Smith retrieved the ancient gold plates, which were translated into the Book of Mormon: Another Testament of Jesus Christ.
See Also
References