Obi-Wan Finale - The Loop
Play Sound
Stake History
2021 New Stake Presidency
SUVA FIJI NORTH STAKE: (May 16, 2021) President — Viliame Sokotiviti Levaci, 41, Fiji Church College teacher and head of department; succeeding Sakiusa M. Maiwiriwiri; wife, Melissa Eliza Jean Koster Levaci. Counselors — Lote Qima Vuniduvu, 40, technical support representative; wife, Alena Adimatai Delai Vuniduvu. Savenaca Kadavikece Batisaresare, 51, Seminaries and Institutes teacher; wife, Akanisi Wati Biutanaseva Batisaresare.
Panapasa Pupa Tilley was called as first counselor in this stake presidency, but died before he could be set apart. On Oct. 31, the second counselor, Lote Qima Vuniduvu, was called as first counselor and a new second counselor was called. [1]
Fiji Home Centered Church Opportunities
We teach that true religion begins in the home: "Home Centered / Church Supported". To that end families may consider the following local resources and programs to strengthen your core beliefs and values:

1. Come Follow Me: - Daily & Weekly family gospel study
2. Vanguard Scouting: - Featuring age-appropriate Family Activities, Service, Crafts, Field Trips, & Outdoor Adventures. The Benefits of Scouting are many, and there are lots of personal growth ideas to help your family pursue the new Churchwide Children & Youth Program.
3. LIFE School Curriculum: an LDS gospel based homeschool program that is built on the foundation of the scriptures, giving the child a sense of who he is and setting him on the path of discovering his divine mission. It is presented in a four year chronological rotation, integrating all areas of study to create a clear picture of the history of our world.
4. Family History: Resources to help you explore your family tree
Mormon Pioneers - 200+ stories of early faithful Latter-day Saint pioneers.
Familypedia - Come help build Fiji's largest Family History online Encyclopedia.

5. Local Recreation:
Scouting in Fiji - Outdoor Trails, camping, museums and other family attractions.
Pioneer Treks -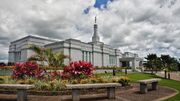 The Suva Fiji Temple is the 91st operating temple of The Church of Jesus Christ of Latter-day Saints. It was the first temple built in Melanesia. It is a scenic location not far from the downtown area of Suva, Fiji's capital. With views of the Pacific Ocean from three sides of the property, the land is located at one of the highest points in the city.
See Also
References