Stake History
2008 New Stake Presidency
SAFFORD ARIZONA STAKE: (April 26, 2009) David Corey Sanders, 49, Judge – Pro Tem for Graham County Superior Court, succeeding Mark C. Herrington; wife, Melissa Coline Eddy Sanders. Counselors — Udero Elicio Bernard, 51, mechanic/lock smith for NCE Security; wife, Mallene Williams Elicio. Kevin Eugene Peck, 41, partner with CMI software; wife, Jody Kempton Peck. [1]
Graham County Home Centered Church Opportunities
We teach that true religion begins in the home: "Home Centered / Church Supported". To that end families may consider the following local resources and programs to strengthen your core beliefs and values:

1. Come Follow Me: - Daily & Weekly family gospel study
2. Vanguard Scouting: - Featuring age-appropriate Family Activities, Service, Crafts, Field Trips, & Outdoor Adventures. The Benefits of Scouting are many, and there are lots of personal growth ideas to help your family pursue the new Churchwide Children & Youth Program.
3. LIFE School Curriculum: an LDS gospel based homeschool program that is built on the foundation of the scriptures, giving the child a sense of who he is and setting him on the path of discovering his divine mission. It is presented in a four year chronological rotation, integrating all areas of study to create a clear picture of the history of our world.
4. Family History: Resources to help you explore your family tree

5. Local Recreation: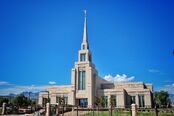 Standing at the foot of the mighty Mount Graham, The Gila Valley Arizona Temple is a treasure for the many Saints with deep roots in the rural communities of Arizona's Gila Valley. The temple is highly accessible at its location on Highway 70 in the aptly named community of Central, located about halfway between Pima and Thatcher. Adjacent to the temple are a meetinghouse and two Church-owned recreational softball fields.
See Also
References