Stake History
1846 Dixie Saints
In 1846, William Crosby (1808-1880) led a group of 99 Pioneer Saints from Mississippi, as far as Fort Pueblo, where they spent the winter. Most of the group continued on in the spring of 1847, under the direction of Amasa Lyman, who was sent from Brigham Young's vanguard company to collect them, arriving in Salt Lake City in July of 1847.
Pueblo County Home Centered Church Opportunities
We teach that true religion begins in the home: "Home Centered / Church Supported". To that end families may consider the following local resources and programs to strengthen your core beliefs and values:

1. Come Follow Me: - Daily & Weekly family gospel study
2. Vanguard Scouting: - Featuring age-appropriate Family Activities, Service, Crafts, Field Trips, & Outdoor Adventures. The Benefits of Scouting are many, and there are lots of personal growth ideas to help your family pursue the new Churchwide Children & Youth Program.
3. LIFE School Curriculum: an LDS gospel based homeschool program that is built on the foundation of the scriptures, giving the child a sense of who he is and setting him on the path of discovering his divine mission. It is presented in a four year chronological rotation, integrating all areas of study to create a clear picture of the history of our world.
4. Family History: Resources to help you explore your family tree
Mormon Pioneers - 200+ stories of early faithful Latter-day Saint pioneers.
Familypedia - Come help build Colorado's largest Family History online Encyclopedia.

5. Local Recreation: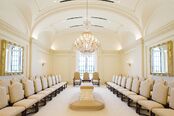 Notable features of the striking white Denver Colorado Temple and its grounds are thousands of colorful flowers in the growing eason, a calming water feature bordered by benches, a wall of colorful stained glass above the temple entrance, and a gold-leafed statue of the angel Moroni atop the heaven-reaching spire. A Distribution Services Center is located next to the temple.
See Also
References