We're Getting Mutants in the MCU - The Loop
Play Sound
Welcome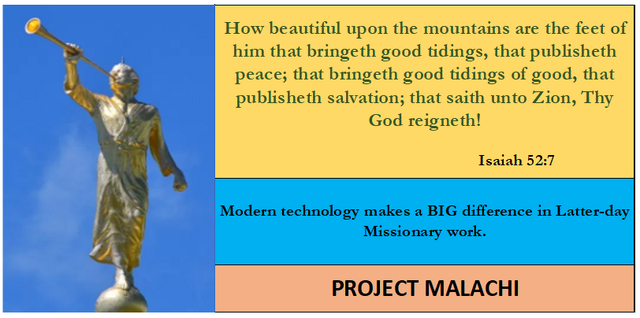 . Brigham Young prophesied that in the latter days, the Lord would provide for many great inventions, labor-saving devices, that would free up the Saints of the Church to be more diligently in building up the Kingdom of God here on earth.
In 1959, President David O'McKay taught this burden belongs to every member of the church. But have you ever wondered what could you do that would make a difference?
Project Overview
Project Malachi: Generate Direct Online Referrals from your home for your hometown missionaries, or your favorite missionaries serving abroad in the field anywhere.
Do you have a little free time each week and are searching for ideas to increase missionary work from the comfort of your own home? This might be a great project for you.
MormonWikia and ScoutHut are two online platforms that have teamed up on a special missionary referral effort called Project Malachi.
ScoutHut
ScoutHut Wiki - this online project is currently building thousands of online community pages. Each community page is a collection of direct links to organizations, scouting, youth sports, parks, recreation, events, churches and other charities that provide local family support services and activities. Each community page provides a listing of local religious groups, including the nearest LDS Stake. Pages may represent cities (both large and small), neighborhoods, unincorporated towns or other significant geographic areas.
A peculiar feature in the family church section of each page is a special link called Malachi's Challenge with extra religious guidance for the family.
The ScoutHut Forum should be of unique interest to all missionaries because its visitors are most frequently parents of young families looking for fresh ideas on how to build happiness in the home and the best path forward for raising their children, a very important target demographic group.
How to Get Started
ScoutHut uses a standard Wiki editor engine that anyone can easily learn. Just hit the Edit Button to get started (I prefer classical editor function).
Begin with Prayer: Always.
Start the Page: Find or start a page for your "community".

To quickly start a new page copy the template from the ficticious town of Roland California -
Change the name of community, county and state for a new page (using search/replace in word pad app).
Save the page:

Add Attractions: Some key community youth clubs, attractions, events, etc that serve here.
Add your LDS Stake(s): just those that serve this community,

Option A: LDS Stake Social Media Page
Option B: LDS Stake Missionaries Page
Option C: Mormon Wikia Stake Profile Page
Option D: ComeUntoChrist.org page
Option E: All of the above.

Share Your Page: Share your new page on local social media for that community (Facebook, Twitter, Instagram, YouTube, etc, etc).

Now your missionaries will see an increase flow of referrals for as long as this page stays up.

Add Updates:. The better the page content, the more powerful it will perform.
Foreign Language Page: - Try the Google Translate function.
Examples
More Resources
Project Malachi