Stake History
2021 Stake Division
The Church organized a new stake in Cabo Verde on June 6th. The Assomada Cape Verde Stake was organized from the Assomada Cape Verde District (organized in 2015) and the Praia Cape Verde Stake (organized in 2012). The new stake includes the following six wards and three branches: the Achada Grande, Achada Mato, Assomada 1st, Assomada 2nd, Praia 2nd, and Tarrafal Wards, and the Calheta, Pedra Badejo, and Ribeirão Manuel Branches. The Church discontinued one branch (Chão Bom) in the district as part of the organization of the new stake in order for one of the units to be large enough to become a ward (Tarrafal). There are now four stakes and one district in Cabo Verde.[1]
Cape Verde Home Centered Church Opportunities
We teach that true religion begins in the home: "Home Centered / Church Supported". To that end families may consider the following local resources and programs to strengthen your core beliefs and values:

1. Come Follow Me: - Daily & Weekly family gospel study
2. Vanguard Scouting: - Featuring age-appropriate Family Activities, Service, Crafts, Field Trips, & Outdoor Adventures. The Benefits of Scouting are many, and there are lots of personal growth ideas to help your family pursue the new Churchwide Children & Youth Program.
3. LIFE School Curriculum: an LDS gospel based homeschool program that is built on the foundation of the scriptures, giving the child a sense of who he is and setting him on the path of discovering his divine mission. It is presented in a four year chronological rotation, integrating all areas of study to create a clear picture of the history of our world.
4. Family History: Resources to help you explore your family tree
Mormon Pioneers - 200+ stories of early faithful Latter-day Saint pioneers.
Familypedia - Come help build Cape Verde's largest Family History online Encyclopedia.

5. Local Recreation:
Cape Verde Scouting - Outdoor Trails, camping, museums and other family attractions.
Pioneer Treks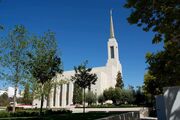 The Lisbon Portugal Temple is the 166th operating temple of The Church of Jesus Christ of Latter-day Saints, (LDS Church) and the 1st temple completed in Portugal. This temple sits in the northeastern section of the city near the modern parish of Parque das Nações, a thriving hub of leisure, commercial, and residential activity on the Tagus River, boasting famed venues that include the Lisbon Oceanarium, the Vasco de Gama Tower, the twin São Gabriel and São Rafael towers, the Parque Das Nações Marina, the MEO Arena, the Vasco de Gama Center (shopping mall), and the Vasco de Gama Bridge. Transportation to and from the temple will be greatly facilitated by the Lisbon Metro, as the site is located adjacent to the Moscavide station. The station opened in July 2012 in conjunction with the Encarnação and Aeroporto stations, expanding the line that serves the Lisbon Airport, situated just two miles west of the temple site.
See Also
References