Stake History
2005 Stake Division
The Surprise Arizona Stake, which includes the Cactus Lane, El Mirage, Kingswood Park, Surprise 1st and 2nd, Wickenburg and Willow Canyon wards, and the Wenden Branch, has been created by Elder Gene R. Cook of the Seventy. (Jan. 16, 2005) Created from the Peoria Arizona North Stake.
2021 New Stake Presidency
PEORIA ARIZONA NORTH STAKE: (Jan. 10, 2021) President — Michael Adam Worlton, 51, GHD Inc principal; succeeding Sean L. Hinton; wife, Beth Anne Barrett Worlton. Counselors — Adam Charles Carlini, 58, Dynamic Wealth Management president and chief investment officer; wife, Jennifer Elaine Hess Carlini. Jared Joseph Pottle, 36, self-employed business owner; wife, Samantha Leigh Hatch Pottle.[1]
Maricopa County Home Centered Church Opportunities
We teach that true religion begins in the home: "Home Centered / Church Supported". To that end families may consider the following local resources and programs to strengthen your core beliefs and values:

1. Come Follow Me: - Daily & Weekly family gospel study
2. Vanguard Scouting: - Featuring age-appropriate Family Activities, Service, Crafts, Field Trips, & Outdoor Adventures. The Benefits of Scouting are many, and there are lots of personal growth ideas to help your boys and girls to pursue the new Churchwide Children & Youth Program.
3. LIFE School Curriculum: an LDS gospel based homeschool program that is built on the foundation of the scriptures, giving the child a sense of who he is and setting him on the path of discovering his divine mission. It is presented in a four year chronological rotation, integrating all areas of study to create a clear picture of the history of our world.
4. Family History: Resources to help you explore your family tree
Mormon Pioneers - 200+ stories of early faithful Latter-day Saint pioneers.
Familypedia - Come help build Arizona's largest Family History online Encyclopedia.

5. Stripling Warriors on Facebook - LDS Children preparing to build Zion across Arizona and around the world.
6. Local Recreation: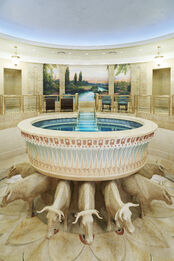 On May 15, 2013, the traditional gold-leafed figure of the angel Moroni was installed atop the spire of the Phoenix Arizona Temple to an audience of enthusiastic workers and members who gathered to the temple to witness the milestone event.
See Also
References