Estaca Palmas Brasil Norte
História da Estaca
2020 Stake Creation
The Church organized a new stake in Tocantins State, Brazil. The Palmas Brazil North Stake was organized from a division of the Palmas Brazil Stake on December 6th. The new stake includes the following five wards: the Luzimangues, Miracema, Palmas 1st, Palmas 2nd, and Paraíso Wards. The stake is the Church's second stake in Tocantins State where 1.6 million people reside. The Church organized its first stake in Tocantins State (the Palmas Brazil Stake) in 2007. The Church created its first branch in Tocantins State in 1990. There are now 279 stakes and 39 districts in Brazil. [1]
Oportunidades da Igreja Centrado na Lar no Brasil
Ensinamos que a verdadeira religião começa em casa: "Lar centrado no lar / Igreja apoiada". Para esse fim, as famílias podem considerar os seguintes recursos e programas locais para fortalecer suas crenças e valores essenciais:
1. Vem, e Segue-Me:- Estudo diário e semanal do evangelho da família
2. Escotismo de Vanguarda: - Apresentando Atividades em Família, Serviço, Artesanato, Viagens de Campo e Aventuras ao Ar Livre apropriadas para a idade. Os Benefícios do Escotismo são muitas, e há muitas idéias de crescimento pessoal para ajudar sua família a buscar o novo Programa para Crianças e Jovens em toda a Igreja.
3. Currículo Escolar La Vida: um programa de ensino em casa SUD baseado no evangelho, construído com base nas escrituras, dando à criança uma noção de quem ela é e colocando-a no caminho de descobrir sua missão divina. É apresentado em uma rotação cronológica de quatro anos, integrando todas as áreas de estudo para criar uma imagem clara da história do nosso mundo.
4. História da Família: Recursos para ajudá-lo a explorar sua árvore genealógica
Pioneiros Mórmons - Mais de 200 histórias de pioneiros fiéis dos santos dos últimos dias.
Ajude a construir a maior enciclopédia on-line de história da família do Brasil.
5. Recreação local:
Escoteiros do Brasil - Trilhas ao ar livre, camping, museus e outras atrações da família.
Pioneer Treks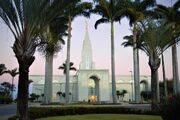 Templo do Campinas Brasil: O 111º templo em funcionamento de A Igreja de Jesus Cristo dos Santos dos Últimos Dias (Igreja SUD) e o 4º templo concluído no Brasil (2002).
Veja também
Referencias