Estaca Palhoça Brasil
História da Estaca
2021 Stake Division
The Church organized a new stake in Brazil on June 6th by created by Elder Adilson de Paula Parrella, General Authority Seventy, and Elder Gustavo G. Rezende, an Area Seventy. The Palhoca Brazil Stake was organized from a division of the Sao Jose Brazil Stake. The new stake includes the following four wards and one branch: the Fazenda do Max, Forquilhinhas, Palhoça, and Pedra Branca Wards, and the Santo Amaro Branch. There are now 10 stakes in Santa Catarina State.[1]
PALHOÇA BRAZIL STAKE: (June 6, 2021) President — Adriano Silva Machado, 45, Alex Benedet workshop manager; wife, Suzanila Pereira Machado. Counselors — Bernardino José Inácio Lopes, 63, Santa Catarina State University technician; wife, María Diná Rodrigues de Souza Lopes. Marcilio Silva de Souza, 38, Regenera shipping assistant; wife, Ana Paula Monteiro da Silva Souza.[2]
Oportunidades da Igreja Centrado na Lar no Brasil
Ensinamos que a verdadeira religião começa em casa: "Lar centrado no lar / Igreja apoiada". Para esse fim, as famílias podem considerar os seguintes recursos e programas locais para fortalecer suas crenças e valores essenciais:
1. Vem, e Segue-Me:- Estudo diário e semanal do evangelho da família
2. Escotismo de Vanguarda: - Apresentando Atividades em Família, Serviço, Artesanato, Viagens de Campo e Aventuras ao Ar Livre apropriadas para a idade. Os Benefícios do Escotismo são muitas, e há muitas idéias de crescimento pessoal para ajudar sua família a buscar o novo Programa para Crianças e Jovens em toda a Igreja.
3. Currículo Escolar La Vida: um programa de ensino em casa SUD baseado no evangelho, construído com base nas escrituras, dando à criança uma noção de quem ela é e colocando-a no caminho de descobrir sua missão divina. É apresentado em uma rotação cronológica de quatro anos, integrando todas as áreas de estudo para criar uma imagem clara da história do nosso mundo.
4. História da Família: Recursos para ajudá-lo a explorar sua árvore genealógica
Pioneiros Mórmons - Mais de 200 histórias de pioneiros fiéis dos santos dos últimos dias.
Ajude a construir a maior enciclopédia on-line de história da família do Brasil.
5. Recreação local:
Escoteiros do Brasil - Trilhas ao ar livre, camping, museus e outras atrações da família.
Pioneer Treks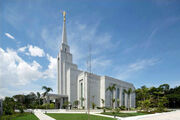 Templo do Curitiba Brasil: O 126º templo em funcionamento de A Igreja de Jesus Cristo dos Santos dos Últimos Dias (Igreja SUD) e o 5º templo concluído no Brasil (2008).
Cercado por árvores em um belo pedaço de terra no distrito de Campo Comprido, no oeste de Curitiba, este templo está convenientemente localizado próximo à parada de ônibus da Unidade Saúde Campo Comprido, perto do Shopping Barigui. A decoração dos jardins requintados é uma grande característica da água, belos jardins e inúmeras árvores. O público é convidado a andar pelos jardins.
Veja também
Referencias