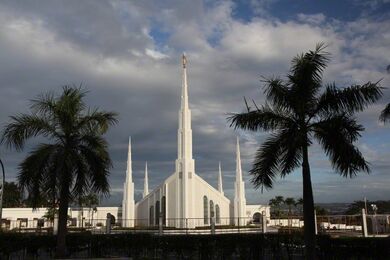 The Digital Almanac about everything in the Mormon Religion, and particularly about The Church of Jesus Christ of Latter-day Saints (AKA: LDS Church or Mormon Church). The mission of this Wikia Project is to help everyone to gain a better appreciation of this religion and how it can help us grow closer to our Lord and Savior, Jesus Christ.
New in Mormonism
Oct 2020 - General Conference of The Church of Jesus Christ of Latter-day Saints
01-Oct-2020: Scouts Hike in the Footsteps of One of the Greatest Military Treks in American History - BoysLife.com 2020 Special Feature about MormonBattalion Trial]
25-Aug-2020: Church announces Online Temple Prayer Roll system - Members are invited to place the names of those in need on what is known as the "prayer roll" of the temple.
13-Aug-2020: 2021 New Church Magazines Announced - So long to the Ensign.
27-July-2020: 1st 12 temples to reach Phase II Reopening - And more changes for the temple ceremony.
18-July-2020: Feather River Temple Groundbreaking - 1st Temple groundbreaking service presided over by an Area Authority Seventy.
14-Jun-2020: * [Social Media Mission Project| Embracing the Future of Missionary Work] - Video Released by Elder Uchtdorf. Lessons learned from COVID-19 that we can all apply.
Oct 2020: Another Virtual General Conference - Per church newsroom announcement - 4 June 2020
19-May-2020: Four New Seventies Quorums Crated -
19-May-2020: LDS Church to allow limited Worship Services to Resume - Phase 1 reopening to allow shortened sunday meetings of 99 or less. Avoid overlapping meeting schedules. First requires approval of Area Authorities and local government leaders.
15-May-2020 : Little Philmont 2020 - New LDS-BSA 2020 Religious Scouting Awards unveiled - Vanguard Scouting Little Philmont Conference.
14-Apr-2020 : Church asks for Member Help to Sew 5 Million Face Masks -
5-Apr-2020 : 190th General Conference - A Conference like no other
4-Apr-2020 : 190th General Conference - A Conference like no other
12-Mar-2020 : Coronavirus and Mormonism All Worldwide Church Meetings Suspended by 1st Presidency - How the Church is handling the 2020 Pandemic. Latest Updates here.
Apr 17-May 2: Rio de Janeiro Brazil Temple the public is invited to tour the temple from Friday, April 17 through Saturday, May 2, 2020, except for the Sundays of April 19 and 26. Also announced are the dates for the temple's dedication and youth devotional. The Rio de Janeiro Brazil Temple will be dedicated on Sunday, May 17, 2020, in three sessions, 9:00 a.m., 12:00 p.m., and 3:00 p.m.
08 Feb 2020 : Vanguard Scouting Program Launch Date - A new organization of LDS Scouters launches group to continue working with Scouting organizations around the world to build bridges of faith. This date coincides with the 110th Anniversary of the charter of the Boy Scouts of America.
08 Dec 2019 : 2019 Christmas Devotional of the Church - 6PM MST - Conference Center in Salt Lake City, Utah
05 Dec 2019 : New Church Primary Program Website Launch - The newly updated Primary organization page on ChurchofJesusChrist.org provides new information specifically for you. You will find:1) The latest resources for Children and Youth. 2) Resources for lessons, singing time, and nursery. 3) Children and youth protection training. 4) Answers to frequently asked questions about Primary.
04 Dec 2019 : Church releases Statement of Support for Refugees -
17 Nov 2019 : I Will Go and Do - 2020 LDS Youth Theme Video released at Fireside.
01 Nov 2019 : New Church Video Explains the Final Judgement - "This judgment will come only after they have a complete understanding of God's plan and have had an opportunity to repent of their sins, which is possible through the Atonement of Jesus Christ. . . ."
01 Nov 2019 : LDS Gospel Topics Major Updates Posted by Church - New topics have also been added and include "Church Councils," "Family Councils," "Ministering," and "Plan of Salvation," and more will be added in the future. [1]
05 Oct 2019 : 189th Semi-Annual General Conference:
16 Aug 2019 : Church Launches Protection Training for Leaders of Children and Youth - Online course part of an ongoing effort to protect children and youth.
15 Aug 2019 : Word of Wisdom Update - Prohibits Vaping, most coffees and teas. Marajuana, opoids require doctor's supervision.
01 Aug 2019 : "Go and Do" - Church announces new 2020 youth theme (1 Nephi 3:7).
See Also
For more news see : 2020 LDS Church Calendar See Also : MormonNewsRoom
References