Estaca Neuquen Argentina
Historia de Estaca
2020 New Stake Presidency
NEUQUÉN ARGENTINA STAKE: (November 29, 2020) President — Marcelo Oscar Rodriguez, 61, Sistema Educativo coordinator; succeeding Eduardo M. Paredes; wife, Alicia Emma Crisol Rodriguez. Counselors — Gustavo Eugenio Abad, 44, Undersecretary of the Health of the Province of Neuquén surveyor; wife, Gladys Amalia Muñoz Abad. Jose Martin Morales, 38, Entrepreneurs Chocon SRL controller; wife, Jessica Lorena Valdes Silva Morales.[1]
Oportunidades de Iglesia Centrada en el Hogar de Argentina
Enseñamos que la verdadera religión comienza en el hogar: "Centrado en el hogar / Iglesia apoyada". Con ese fin, las familias pueden considerar los siguientes recursos y programas locales para fortalecer sus creencias y valores centrales:

1. Ven, Sígueme: - Estudio diario y semanal del evangelio familiar
2. Vanguard Asociación de Scouts: - Con actividades familiares, servicios, manualidades, excursiones y aventuras al aire libre apropiadas para la edad.Los beneficios de explorar son muchas, y hay muchas ideas de crecimiento personal para ayudar a su familia a seguir el nuevo Programa de Niños y Jóvenes de toda la Iglesia.
3. LIFE Currículum escolar: un programa de educación en el hogar basado en el evangelio SUD que se basa en las bases de las Escrituras, que le da al niño una idea de quién es y lo coloca en el camino de descubrir su misión divina. Se presenta en una rotación cronológica de cuatro años, integrando todas las áreas de estudio para crear una imagen clara de la historia de nuestro mundo.
4. Historia Familiar: Recursos para ayudarlo a explorar su árbol genealógico
Pioneros Mormones - 200+ historias de los primeros pioneros fieles de los Santos de los Últimos Días.
Familypedia - Ven a ayudar a construir la enciclopedia en línea de historia familiar más grande de Argentina.

5. Recreación Local:
Scouts de Argentina - Senderos al aire libre, campamentos, museos y otras atracciones familiares.
Pioneer Treks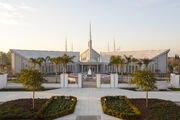 El Templo de Buenos Aires Argentina es el 39 templo en funcionamiento de La Iglesia de Jesucristo de los Santos de los Últimos Días (Iglesia SUD) y el primero templo terminado en Argentina (2015).
Ubicado en las afueras del oeste de Buenos Aires, en el suburbio de Ciudad Evita, y de fácil acceso desde la autopista Teniente General Pablo Ricchieri, las características notables del edificio incluyen sus grandes tejados inclinados, seis torres elevadas y tres alas que se ramifican desde un vestíbulo central. También en el sitio hay un Centro de Capacitación Misional, un centro de vivienda para trabajadores del templo y un centro de vivienda para mecenas. Los terrenos del templo cuentan con una gran plaza y obras hidráulicas extraordinarias.== Ver también ==
Referencias