Jurassic World: Dominion Dominates Fandom Wikis - The Loop
Play Sound
Stake History
2021 Brentwood Teens build beds for homeless
Booming pop music may be an expected component of a youth conference soundscape — rumbling power saws, maybe not so much. Both were present at the Church of Jesus Christ of Latter-day Saints in Brentwood on Wednesday as more than 75 teens gathered to build bunk beds in partnership with Sleep in Heavenly Peace for local children in need.
Some of the teens were hard at work measuring, cutting and sanding wood for the bed frames outside in the parking lot while others made fleece blankets to go with the beds inside the church. Each frame would also be delivered with a mattress as well.
Dwan Smith, the president of the Nashville chapter of Sleep in Heavenly Peace, shared that the beds will go to children in Nashville who don't have a bed and are sleeping on the floor. Families in this situation can apply for a bed with the chapter, and volunteers are then able to help fill that need.[1]
Davidson County Home Centered Church Opportunities
We teach that true religion begins in the home: "Home Centered / Church Supported". To that end families may consider the following local resources and programs to strengthen your core beliefs and values:

1. Come Follow Me: - Daily & Weekly family gospel study
2. Vanguard Scouting: - Featuring age-appropriate Family Activities, Service, Crafts, Field Trips, & Outdoor Adventures. The Benefits of Scouting are many, and there are lots of personal growth ideas to help your family pursue the new Churchwide Children & Youth Program.
3. LIFE School Curriculum: an LDS gospel based homeschool program that is built on the foundation of the scriptures, giving the child a sense of who he is and setting him on the path of discovering his divine mission. It is presented in a four year chronological rotation, integrating all areas of study to create a clear picture of the history of our world.
4. Family History: Resources to help you explore your family tree
Mormon Pioneers - 200+ stories of early faithful Latter-day Saint pioneers.
Familypedia - Come help build Tennessee's largest Family History online Encyclopedia.

5. Stripling Warriors on Facebook - LDS Children preparing to build Zion and around the world.
6. Local Recreation: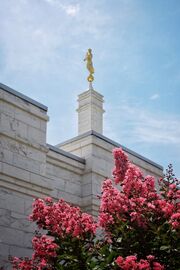 The Nashville Tennessee Temple is the 84th operating temple of The Church of Jesus Christ of Latter-day Saints. Tennessee's second temple, it lies 15 miles south of the state capital in the picturesque suburb of Franklin, in the vicinity of two 100-acre horse farms and a historic private high school named Battle Ground Academy. The holy structure and its beautiful grounds complement the immaculate character of the rural residential neighborhood.
See Also
References