Estaca Lima Peru Chaclacayo
Historia de Estaca
2019 Division de la Estaca
The Church organized another new stake in Lima, Peru - the fifth new stake to be created in Lima thus far in 2019. The Lima Peru Santa Clara Stake was created on August 11th from a division of the Lima Peru Campoy Stake, Lima Peru Vitarte Stake, and the Lima Peru Chaclacayo Stake. The new stake includes the following four wards and two branches: the Cajamarquilla, Jicamarca, Santa Clara, and Praderas Wards, and the Carapongo and Nicolas de Pierola Branches.
There are now 49 stakes in the Lima metropolitan area - more than any other metropolitan area outside of the United States. There are only five metropolitan areas within the United States that have more stakes than Lima, including the greater Salt Lake City, Utah metropolitan area (approximately 180 stakes within Salt Lake County); the greater Orem, Utah metropolitan area (approximately 165 stakes within Utah County); the greater Phoenix, Arizona metropolitan area (approximately 80 stakes); the greater Ogden/Roy/Layton/Farmington metropolitan area in Utah (approximately 80 stakes); and the greater Los Angeles, California metropolitan area (approximately 65 stakes). There are now 110 stakes and 18 districts in Peru.
2020 New Stake Presidency
LIMA PERÚ CHACLACAYO STAKE: (Sept. 13, 2020) President — Jorge Luis Estrada Zuñiga, 46, Compartamos Financiera business advisor; succeeding Alberto G. Lorenzo Meza; wife, Victoria Jocavet Ruiz Moreno. Counselors — Raul Donaldo Monteza Lazo, 40, Distribuidora Adamar commercial manager and owner; wife, Monica Martha Quincho Torrejon. Jimmy Damian Quispe Chuan, 35, International 4PL Cargo SAC logistics and customs employee; wife, Cecilia del Pilar Litano Montero.[1]
Oportunidades de Iglesia Centrada en el Hogar de Peru
Enseñamos que la verdadera religión comienza en el hogar: "Centrado en el hogar / Iglesia apoyada". Con ese fin, las familias pueden considerar los siguientes recursos y programas locales para fortalecer sus creencias y valores centrales:

1. Ven, Sígueme: - Estudio diario y semanal del evangelio familiar
2. Vanguard Asociación de Scouts: - Con actividades familiares, servicios, manualidades, excursiones y aventuras al aire libre apropiadas para la edad.Los beneficios de explorar son muchas, y hay muchas ideas de crecimiento personal para ayudar a su familia a seguir el nuevo Programa de Niños y Jóvenes de toda la Iglesia.
3. LIFE Currículum escolar: un programa de educación en el hogar basado en el evangelio SUD que se basa en las bases de las Escrituras, que le da al niño una idea de quién es y lo coloca en el camino de descubrir su misión divina. Se presenta en una rotación cronológica de cuatro años, integrando todas las áreas de estudio para crear una imagen clara de la historia de nuestro mundo.
4. Historia Familiar: Recursos para ayudarlo a explorar su árbol genealógico
Pioneros Mormones - 200+ historias de los primeros pioneros fieles de los Santos de los Últimos Días.
Familypedia - Ven a ayudar a construir la enciclopedia en línea de historia familiar más grande de Venezuela.

5. Recreación Local: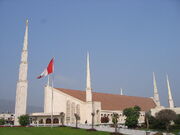 El Templo de Lima Peru es el 38 templo en funcionamiento de La Iglesia de Jesucristo de los Santos de los Últimos Días (Iglesia SUD) y el primero templo terminado en Peru (2015). Situado en el este de Lima, en el exclusivo distrito de La Molina, el Templo de Lima, Perú, acentuado por seis torres escultóricas, se eleva resueltamente sobre la muy transitada Avenida Javier Prado.
Ver también
Referencias