Jan. 1, 2009: Est. population, 40,525,000; Members, 44,304; Stakes, 9; Wards, 62; Branches, 71; Missions, 4; Districts, 9; Temples, 1; percent LDS, 1.1, or one in 915; Europe Area.
Located in southwest Europe, Spain is a constitutional monarchy. Its people speak Spanish, Catalan, Galician, and Basque, and 90 percent are Roman Catholic.
Church History
In 1932, missionaries Ray L. Richards and Garland F. Smith traveled from the Swiss and German Mission to Spain to investigate the possibilities of conducting missionary work there. Though no report of their experiences is known, Spain's laws governing religious freedom were restrictive at that time and would have prevented a successful missionary program. That was to remain the case until 1967. In 1952, Juan Ventura learned about the Church "through correspondence in 1949" and was baptized in France in 1952. He married and moved to Salt Lake City, but returned to live in Spain in 1972.

In 1954, Spain and the United States entered into an agreement allowing US military bases to be established in Spain. By 1956, servicemen's groups were meeting at bases throughout Spain, and the first branch was established for servicemen stationed at Torrejon Air Base about 1957. One of the first converts in Spain, Jose Maria Oliveira, was baptized in France on 12 March 1966, because it was illegal for non-state religions to perform ordinances in Spain. Gabriel Diez became the first known native member of the Church to be baptized on Spanish soil on 27 November 1966.
On 28 June 1967, the Spanish Parliament enacted the religious liberty law allowing all Churches the right to function in Spain. Elder Howard W. Hunter of the Quorum of the Twelve visited Spain in April 1967 to explore the possibility of establishing the Church under the new law, and Elder Gordon B. Hinckley of the Quorum of the Twelve traveled to Spain in November of 1967 to review the developments in the Church's efforts to establish itself there.
The Madrid Spanish Speaking Branch was organized 7 January 1968 with David B. Timmins as president. Jose Maria Oliveria became the first native president of the branch later that same year.
The Church became fully recognized on 22 October 1968. Early in June 1969 four missionaries, Clark Hinckley, Jose Louis Barco, Craig Ward, and Robert Hernandez arrived from the North Argentine Mission and began missionary work in Madrid on 6 June 1969.
The Spain Mission (renamed the Spain Madrid Mission in 1974) was officially organized on 1 July 1970 with R. Raymond Barnes as president. That was followed by the organization of the Madrid District on 12 September with Jose Maria Oliveria as president. During this period, many Spanish-speaking Church members from around the world were transferred by their businesses to Spain and this helped to strengthen the new branches.
On 1 July 1976, the Spain Madrid Mission was divided and the Spain Seville and Spain Barcelona Missions were created. The first meetinghouse built by the Church was dedicated on 10 July 1977 in Madrid. Spain's first stake was created in Madrid on 14 March 1982 with Jose Maria Olivera as president.
President Hinckley has met with King Juan Carlos I and Queen Sofia on three occasions. The first meeting was in the Fall of 1978. Then, on 9 March 1992, President Hinckley met with the King and Queen, and presented them with a personalized, leather-bound copy of the Book of Mormon. He also met with the King and Queen on 18 March 1999 and presented them with a figurine of the Christus. The next day, President Hinckley dedicated the Madrid Spain Temple. The complex where the temple is located also houses a missionary training center and Church offices.
Membership in 1999 was 30,439.
On 11 March 2004, terrorist bombs exploded on commuter trains in Madrid. A few Latter-day Saints were injured in the explosions. Many Latter-day Saints attended an ecumenical service on 25 March of that year to memorialize those killed in the attacks.
Membership in 2005 reached 39,784.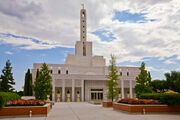 The Madrid Spain Temple is the 56th operating temple of The Church of Jesus Christ of Latter-day Saints, (LDS Church) and the 1st temple completed in Metropolitan Spain. The Madrid Spain Temple is part of a complex with a stake center and patron housing facility often referred to as the "Temple Square of Madrid."
See Also
Sources:
Sources: Swiss Mission, Manuscript history and historical reports, Church Archives; Betty Ventura, "The Saints in Spain," Ensign, April 1975, 6-11; "Mormons Meet King of Spain," Church News, 14 October 1978; Spain Madrid Mission, history files, Church Archives; Madrid Servicemen's Branch, Manuscript history and historical reports, Church Archives; Michael J. Mitchell, History of the first Church unit in Spain, Church Archives; Jose Maria Oliveria, Interview, 1997, Church Archives; Spain Madrid Mission, History files, Church Archives; French Mission, Manuscript history and historical reports, Church Archives; Spain Madrid Mission, Manuscript history and historical reports, Church Archives; "Church Leaders Make Courtesy Visit to Spain's King and Queen," Church News, 28 March 1992, 3; "President Hinckley visits King, Queen of Spain," Church News, 20 March 1999, 5; Jason Swenson, "Victims Memorialized: Mission President Offers Prayer in Madrid Service," 24 April 2004.