Jan. 1, 2009: Est. population, 3,360,000; Members, 43,703; Stakes, 8; Wards, 42; Branches, 49; Missions, 1; Districts, 5; Temples, 1; Percent LDS,1.3, or one in 77; Central America Area.
Located in southern Central America, the Republic of Panama has a population that speaks Spanish and some English.
Church History
In February 1940, Church member Otto L. Hunsaker was sent by his employer to work in Panama. He wrote to the First Presidency in September 1940 and again in March 1941 requesting that the Church organize a branch in the Canal Zone. Elder Antoine R. Ivins visited Panama and organized the Canal Zone Branch on 18 May 1941, with Otto L. Hunsaker as president. Most of the branch members were serving in the U.S. military. The branch met at a Jewish meeting hall that also served as a U.S.O. center, provided to the Church at no cost by local Rabbis, who said Brigham Young had provided Utah Jews with a meeting house and a cemetery when Jewish settlers first arrived in Utah. The branch reached a membership of 100 in its first year. Initially, the Canal Zone Branch was part of the Mexican Mission until the Central American Mission was created in November 1952. The first missionaries to Panama were Carl Guthrie and William Parker, who arrived in August 1953.

Servicemen, including Eran A. Call, later a member of the Second Quorum of the Seventy, and Ladd Black, taught some of the San Blas Indians in 1953 who were employed at the U. S. military base. They also taught the San Blas chief, Iguanigdipipi, who gave permission for his people to join the Church. The first of these baptized was his son-in-law, Jose Coleman. He was interviewed for baptism by President David O. McKay, who had stopped in Panama on 13 February 1954 while returning from a three-continent tour. Coleman was baptized on 18 April 1954. The first known native convert was Jose D. Guzman who was baptized on week earlier on 11 April 1954. In 1961, Elder Marion G. Romney presented a copy of the Book of Mormon to the president of the republic, Roberto F. Chiari. Because the Panamanian government did not recognize the Church until 1965, missionary work was limited until that time.
In 1965, Central America Mission president Ted E. Brewerton visited the San Blas islands and started full-time missionary work. Because the people there had traditions that corresponded closely with Book of Mormon events, many joined the Church. The first meetinghouse, completed in April 1970, was built on the island of Ustopo. The Panama Stake, the first in the country, was created on 11 November 1979, with Nelson L. Altamirano as president.
The Panama Panama City Mission was created on 1 July 1989. At the time, approximately 10,400 members lived in Panama. Most North American missionaries were withdrawn from the country in 1988 because of increasing political difficulties, but local leaders and missionaries continued the work.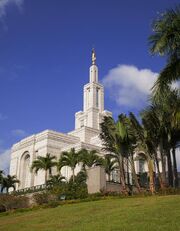 The Panama City Panama Temple is the 127th operating temple of The Church of Jesus Christ of Latter-day Saints (LDS Church) and the 1st temple completed in Panama. This temple is on a tall hillside overlooking the famed Panama Canal, traveled by ships and vessels from around the world. The temple stands adjacent to the Cárdenas meetinghouse and a large facility at the rear of the property provides housing for the temple presidency, temple missionaries, and temple patrons. The beautiful landscaping is punctuated with numerous palm trees, colorful foliage, and a serene water feature.
President Gordon B. Hinckley visited Panama on 20 January 1997 and spoke in Panama City to 3,000 members. The prophet again visited Panama 18 December 2000, as he returned from dedicating two temples in Brazil. He addressed 5,000 members at a meeting in a downtown convention center in Panama City and told them the day would come when a temple would be built in Panama if members proved worthy. A temple was announced for Panama City on 13 September 2002. In 2002, membership reached 39,559. By 2004, membership was 40,356 in seven stakes.
On 20 October 2005, ground was broken for the Panama City Panama Temple on a beautiful hillside in the suburb of Villa Cardenas. Elder Spencer V. Jones of the Seventy and president of the Central America Area presided at the ceremony and offered the dedicatory prayer.
See Also
Sources:
Sources: Hunsaker family papers,1940-1999, Church Archives; Panama City Branch, Manuscript history and historical reports, Church Archives; Central American Mission, Manuscript history and historical reports, Church Archives; [Canal Zone Branch], photograph, 17 May 1942, Church Archives; "Canal Zone Branch Notes Anniversary," Church News 27 June 1942; Central American Mission, scrapbook, 1966-1970, Church Archives; "Elder Romney Sets Busy Schedule in Canal Zone," Church News, 2 December 1961; Ronald K. Esplin, "San Blas Indians," Church News, 2 June 1979; "Panama Gains First Stake from Costa Rica Mission," Church News, 25 April 1970; "New Missions," Church News, 25 February 1989; "An Outpouring of Love for Prophet: Pres. Hinckley Addresses 88,000 in Central America," Church News, 1 February 1997; "Travels of the Prophet," Church News, 30 December 2000; "Two New Temples Announced," Church News, 14 September 2002.