Jan. 1, 2009: Est. population, 149,229,000; Members, 88,374; Stakes, 16; Wards, 124;Districts, 15; Branches, 136; Missions, 5; temples, 1; percent LDS, .06, or one in 1,689;Africa West Area.
Church History
Early Years
The gospel began to take root in Nigeria two decades before it was formally preached in the country. Letters came to Church headquarters from Nigerians inquiring about the Church as early as 1946. From the late 1950s on, some Nigerians learned about the Church through magazine articles and Church literature. Groups of people began meeting unofficially in the Church's name. These groups had boards of directors, formalized constitutions and rules, and were legally registered with the government.
In 1960, the First Presidency asked Glen G. Fisher, returning president of the South African Mission, and Marvin R. Jones, a young missionary called to serve in South Africa, to visit Nigeria. Fisher reported to the First Presidency that he met with several groups that had obtained Church literature, believed the doctrine and organized themselves as best as they could, and looked to Church headquarters for help. He said that the Church had been invited to establish the work in Nigeria and believed that if an organization could be set up, even without the priesthood, the people would be blessed.

In 1959, LaMar S. Williams, an employee in the Church Missionary Department, was assigned to answer correspondence received from West Africa. In October 1961, Williams made the first of three trips to Nigeria to visit those people with whom he had corresponded and to check on the feasibility of establishing a mission. His positive reports and the many letters from Nigeria sent to Church headquarters prompted a decision to begin missionary work.
On 21 November 1962, Williams was set apart as the first presiding elder over Nigeria by Church President David O. McKay. In December 1962, Elder N. Eldon Tanner, a newly called member of the Quorum of the Twelve, traveled to Lagos, Nigeria, to inquire about the possibility of obtaining visas for missionaries, the first General Authority to set foot on Nigerian soil.
After a prolonged struggle to obtain Nigerian visas and the uncertainties about organizing the Church in Africa without most of the local male members holding the priesthood, Williams was finally able to begin his mission. In Enugu, Nigeria, on 6 November 1965, his visa was extended for 90 days and arrangements were made to have the Church officially registered in Nigeria. The same day, however, the First Presidency directed Williams to discontinue negotiations in Nigeria and return home immediately.
Williams did not record any reasons explaining the reversal of the First Presidency decision, but two months later, in January 1966, a violent military coup ignited the Biafran War, a bloody civil conflict in Nigeria. For the next 13 years no attempts were made to establish the Church in Nigeria.
Elder Obinna
About this time in 1966, Anthony O. Obinna, who was living in eastern Nigeria, had a dream in which someone gave him a copy of the Reader's Digest. Four years later, in 1970, during the civil war, Obinna dreamed about the Reader's Digest again. He began searching for a copy of the magazine. The one he finally found contained a picture of the Salt Lake Temple in an advertisement. Obinna felt prompted to write to the Church, which began an eight-year correspondence.
After he received Church literature from the International Mission, Obinna wanted to share his new-found faith with his neighbors, family and friends. He built an extra room on his house which he would use as a chapel. This and other small groups of prospective Latter-day Saints waited patiently for the first missionaries.
There were a few foreign Latter-day Saints living in Nigeria between the end of the Biafrian War in 1970 and the arrival of the first missionaries in late 1978. Records indicate that they were holding Sunday worship services in their homes in the mid-1970s.
There were also a few Nigerians who had joined the Church while living abroad and had returned. Ime O. Eduok went to California in 1968 to further his studies. An LDS friend invited Eduok and his wife to Church. In September 1970, the Eduoks were baptized in Inglewood, Calif. They returned to Nigeria in 1973. Back in Calabar, Nigeria, they began to associate with American Latter-day Saints, who were working there. Eduok was also able to locate Obinna and others.
The revelation granting the priesthood to all worthy males, announced in June 1978, allowed the successful beginning of missionary work in Nigeria. In August of that year, Merrill Bateman and Edwin Q. Cannon were sent to Nigeria on a fact-finding trip. They visited foreign Latter-day Saints and Nigerians who had been writing to the Church for 20 years. In November of that year the first missionary couples, Rendell N. and Rachel W. Mabey and Edwin Q. and Janath R. Cannon, were sent to Nigeria and Ghana. They soon located and taught the gospel to people who had been meeting in the Church's name.
The first person to be baptized in Nigeria was Anthony Obinna on 21 November 1978. The Aboh Branch, the first in Nigeria, was created the same day with Obinna as president. He remained faithful throughout his life. He and his wife traveled to the Logan Temple in Utah where they were sealed in January 1989. He died in 1995.
Church Growth
The organization of administrative units became necessary as more Nigerians joined the Church. In January 1979, Mabey and Cannon organized the Cross River State District in Calabar, the first district in Nigeria, with Ime O. Eduok as president. The Africa West Mission was organized on 1 July 1980 with Bryan Espenschied as president. It included both Nigeria and Ghana. The mission name was changed to the Nigeria Lagos Mission on 1 July 1985. The mission was divided on 1 July 1988 to create the Nigeria Aba Mission. The Jos and Ilorin missions, with local African mission presidents, Ato K. Dadson and John A. Ehanire, respectively, were organized on 1 July 1992, but discontinued a year later due, in part, to religious intolerance and violence in these regions. On 9 March 2002, the First Presidency announced the Nigeria Uyo and Nigeria Ibadan missions, bringing the total number of missions in the country to four. By 2004, there were five missions in Nigeria.
The Church has grown rapidly in Nigeria. Less than 10 years after the Church's establishment in the country, membership approached 10,000 in 1987. Elder Neal A. Maxwell of the Quorum of the Twelve organized the Aba Nigeria Stake on 15 May 1988, the first in West Africa, with David Eka as president. (Eka was later called as a Regional Representative in 1990 and Area Authority Seventy in 1997.) By 1994, Nigeria had three stakes and 12 districts. In 1999, membership in Nigeria was 42,746, the most of any African country.
President Gordon B. Hinckley visited Nigeria in February 1998, the first Church president to set foot on Nigerian soil. He addressed 1,150 priesthood leaders and more than 12,000 members in a regional conference in Port Harcourt. He also visited Aba, where members lined the streets to welcome him. While speaking to members in Ghana on the same trip, President Hinckley announced that a temple would be built in Accra, more accessible to the Nigerians. Two years later in general conference on 2 April 2000, President Hinckley announced that a temple would be built in Aba. Ground was broken for the temple on 23 February 2002 by Elder Bruce H. Stucki of the Seventy. That year membership reached 60,087 with 14 stakes.
Membership in 2003 was 64,151. In 2005, membership was 74,055.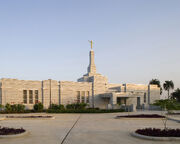 The Aba Nigeria Temple is the 121st operating temple of The Church of Jesus Christ of Latter-day Saints (LDS Church) and the 1st temple completed in Nigeria. The highly visible site of the Aba Nigeria Temple is situated on the outskirts of Aba, north of the Ogbor River. A concrete bridge—constructed by the Church—spans the river, granting access to the temple complex, which includes a stake center and an administration office building with guest rooms.
On 7 August 2005, President Hinckley returned to Nigeria to dedicate the Aba temple on a warm, humid day where 7,415 gathered from throughout Nigeria. During that weekend, activities related to the dedication carried the theme: "A Day of Rejoicing," a fitting description for members who seemed hardly able to contain their joy. In the dedicatory prayer, President Hinckley called the temple a "thing of beauty," which would help heal the land.
There were more than 68,000 members in 2004, and an estimated 70,000 by time of the dedication.
See Also
Sources:
Sources: Charles A. Agu, "The constitution and bye-laws [sic]…," [no date], Church History Library; "Mormons: The Black Saints of Nigeria," Time, 18 June 1965; James B. Allen "Would- Be Saints: West Africa Before 1978," Journal of Mormon History, vol. 17, 1991; Anthonia Nwachukwu, Interview, 1999, Church Archives; Ime Eduok, Interview, 1999, Church Archives; Rendell N. Mabey, An African Legacy, 1998; Glen G. Fisher, Report, 1960, Church Archives; Nyla B. Williams, "Life history of LaMar Stevenson Williams, [1983], Church Archives; Marvin R. Jones, Papers, 1961-1962, Church Archives; Ime O. Eduok, History, 2001; Church Archives; Edwin Q. Cannon, Correspondence, 1972-1980, Church Archives; Julie Dockstader Heaps, "Saints in West Africa Await Temples," Church News, 1 March 2003; "Nigeria Marks Twin Milestones," Church News, 21 May 1988; Richard G. Hinckley, Interview, 1998, Church Archives.