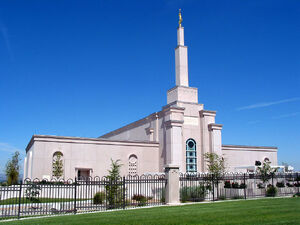 As of year-end 2017, The Church of Jesus Christ of Latter-day Saints (LDS Church) reported 69,627 members in 14 stakes,[1] 143 Congregations (100 wards[2] and 43 branches[2]), 1 mission, and 1 temple in New Mexico.[3]
History
Template:Expand section Mormons first came to New Mexico in 1846. The LDS Church has traditionally had a strong presence in the Four Corners Region of New Mexico, settling the town of Kirtland and other surrounding areas. Mormons found converts among the Zuni Indians.[4]
Missions
On March 7, 1943, the Navajo-Zuni Mission was organized, and specialized with teaching Native Americans in their language. This was renamed the Southwest Indian Mission on January 1, 1949. It was renamed the New Mexico-Arizona Mission on October 10, 1972.
New Mexico became its own mission when the New Mexico Albuquerque Mission was organized on December 15, 1996. Stanley D. Robers was president at the time of organization.[5]
Temples
Template:Main
On March 5, 2000 the Albuquerque New Mexico Temple was dedicated by President Gordon B. Hinckley.
Template:LDS Temple list top Template:LDS Temple/Albuquerque New Mexico Temple |}
Communities
Latter-day Saints had a significant role in establishing and settling communities within the "Mormon Corridor", including the following in New Mexico: Template:Div col
Carson

Fruitland

Kirtland

Luna

Pleasanton

Ramah

Virden

Waterflow
Template:Div col end
See also
United Stakes List of Stakes of the Church

Mormon Battalion
References
Further reading
External links