Obi-Wan Finale - The Loop
Play Sound
Jan. 1, 2009: Est. population, 9,036,000; Members, 15,489; Stakes, 2; Wards, 15; Districts, 2; Branches, 15; Missions, 1; Percent LDS, .17, or one in 583; Caribbean Area.
On the west side of Hispaniola Island in the West Indies, Haiti has a people who speak Haitian Creole and French. About 80 percent are Roman Catholic, and 10 percent are Protestant.
Church History
The first member of the Church in Haiti was Alexandre Mourra, a prominent Haitian businessman of Jewish-Arabic descent, who wrote a letter to Florida Ft. Lauderdale Mission President Richard L. Millett requesting a copy of the Book of Mormon. Soon thereafter, Mourra traveled to Florida and was baptized there on 30 June 1977. He was active in sharing the gospel and on 2 July 1978, President Millett and his counselors came to Haiti to preside over the baptism of 22 Haitians at Hatte Marie, near Port-au-Prince. In September of that year, J. Frederic Templeman of the Canadian embassy arrived, and he helped Mourra to further the work. The first four full-time missionaries were transferred from the Paris France mission and sent to Haiti in May 1980 under the direction of Glen E. Stringham of the Florida Fort Lauderdale Mission. The first branch was established that October with Mourra as president. The Haiti District was created in 1982 with Ludner Armand as president. Among many youth who joined the Church was Fritzner Joseph who was baptized in 1979 and two years later served a mission in Puerto Rico. He was the first missionary called from Haiti.

On 17 April 1983, Elder Thomas S. Monson of the Quorum of the Twelve blessed the land. At that time, Haiti had about 500 members of the Church. On 4 August 1984, the Haiti Port-au-Prince Mission was created with James S. Arrigona as president. Foreign missionaries were removed from Haiti because of civil strife on 25 October 1991. In early 1992, Fritzner Joseph was called as the first native mission president to preside over the Haiti Port-au-Prince Mission. He served for more than four-and-a-half years with only local missionaries. Foreign missionaries returned in February 1996. By July 1998, 48 missionaries were serving; by July 2003, there were 130 missionaries about half of whom were Haitians.
The Port-au-Prince stake, the first in Haiti, was organized 20 September 1997 with Reynolds Antoine Saint-Louis as president. Districts were organized in Gonaives on 28 November 1999 and Les Cayes on 22 July 2001. The Port-au-Prince stake was divided on 7 September 2003, creating the Port-au-Prince North stake. Haitian members rejoiced when the Santo Domingo Temple in the Dominican Republic was dedicated on 17 September 2000. The first couple sealed in the temple was Paul Henry and Wildermina Jean-Baptiste of Haiti.
In 2002, membership reached 11,329.
By 2003, there were 14 chapels throughout the country with others in various stages of planning and construction. Foreign missionaries were pulled out of Haiti in February 2004 due to political and civil unrest. On 26 May 2004, after the turmoil subsided, eight missionaries from the United States were sent to the country.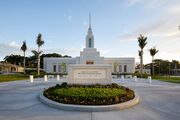 The Port-au-Prince Haiti Temple is the 165th operating temple of The Church of Jesus Christ of Latter-day Saints (LDS Church) and the 1st temple completed in Haiti.
See Also
Sources
Sources: Richard L. Millett, History of the Church in the Caribbean, 1977-1980, Church Archives; "Haiti Dedicated During Historic Visit," Church News, 22 May 1983; "Two New Missions to be Created in Florida and Haiti," Church News, 22 April 1984, Kenneth L. Zabriskie, History of the West Indies Mission [ca. 1989], Church Archives; Elizabeth and Jed VanDenBerghe, "Haitian Saints See Hope in Gospel," Ensign, March 1991; "Ground Broken for Caribbean's First Temple," Church News, 24 August 1996; Haiti Port-au-Prince Mission, Mission history and historical reports, Church Archives; "Happy in Haiti," Church News, 3 May 2003; Michael Moody, Telephone conversation, 27 May 2004.