Jan. 1, 2009: Est. population, 9,650,000; Members, 110,036; Stakes, 19; Wards, 117; Branches, 80; Missions, 3; Districts, 8; Temples, 1; percent LDS, 1.1, or one in 88; Caribbean Area.
On the island of Hispaniola, Dominican Republic is about the size of Vermont and New Hampshire combined, but has nearly five times their combined populations. The Dominican Republic is a representative democracy. Its population speaks Spanish and is mostly Roman Catholic.
Church History
In the 1960s and 1970s, a few Latter-day Saint families from the United States came to the country on business and held their own Church services. In 1978, the Amparo and Rappleye families moved from the United States and began holding Church services under the direction of the Florida Fort Lauderdale Mission. Eddie and Mercedes Amparo were native Dominicans baptized in the United States. They returned to their homeland in 1978. The Amparos soon met another Latter-day Saint family, John and Nancy Rappleye. John Rappleye befriended, Rodolfo Bodden, who was also a boyhood friend of Eddie Amparo. The Bodden family was baptized in August 1978, the first to join the Church on Dominican Republic soil.

Florida Fort Lauderdale Mission President Richard L. Millett sent missionaries in 1978, including John and Ada Davis. On 7 December 1978, Elder M. Russell Ballard of the Quorum of the Seventy visited and blessed the land. The first branch was organized 12 September 1978 in Santo Domingo. The Church grew rapidly and on 1 January 1981, the Dominican Republic Santo Domingo Mission was organized with John A. Davis as president. At that time, membership was 2,500.
Another highlight came two months later on 8-9 March 1981 when President Spencer W. Kimball addressed the Saints, including another late night discourse to Saints from Puerto Plata whose bus had broken down causing them to arrive after the meeting concluded.
Membership increases have been rapid in the country. In 1979, 354 people were baptized. By 1986, membership reached 11,000. The first stake was created in Santo Domingo on 23 March 1986. The following year, the second mission was organized in Santiago when membership was about 13,000. A third mission was created on 1 July 1991 with the division of the Santo Domingo mission. A missionary training center for the Caribbean was dedicated in Santo Domingo on 13 April 1998. Stakes have also grown quickly with the second stake organized 16 October 1988, and a third on 5 November 1989.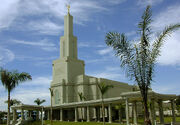 The Santo Domingo Dominican Republic Temple is the 99th operating temple of The Church of Jesus Christ of Latter-day Saints (LDS Church) and the 1st temple completed in the Caribbean and in the Dominican Republic. It is found on a tree-covered, slightly elevated location in a southern, upscale area just a few minutes from the center of Santo Domingo next to the National Music Conservatory. The beautiful site, open to the public, offers an expansive view of the Caribbean Sea to the south.

Membership in 1990 was 31,000. The Santo Domingo Dominican Republic Temple was dedicated 17 September 2000 by President Gordon B. Hinckley. In 2002, membership reached 84,754. By 2004, 12 stakes and 11 districts covered the country.
See Also
Sources
Sources: William B. Smart, "2 Families Bring gospel to a Nation," Church News, 11 July 1981; Jason Swensen, "Dominican Republic: Land of Believers," Church News; 13 January 2001; "Mission Created in Dominican Republic," Church News, 6 December 1980; Gerry Avant, "History is Made: Prophet Visits Caribbean Islands, Church News, 21 March 1981; "Dominican Growth: From Zero to Thousands Since 1978," Ensign, January 1987; Spencer W. Kimball, "Rendering Service to Others," Ensign, May 1981; Elizabeth and Jed VanDenBerghe, "Dominican Republic: A Second Decade for Dominican Saints," Ensign, October 1990; "Ground Broken for Caribbean's First Temple," 24 August 1996, Church News; Jason Swensen, "Caribbean's First Temple Prompts Rejoicing," Church News, 23 September 2000.