Jan. 1, 2009: Est. population, 9,775,000; Members, 163,119; Stakes, 24; Wards, 165; Branches, 82; Missions, 3; Districts, 10; Temples, 1; Percent LDS, 1.7, or one in 60.; South America West Area.
Bolivia, located in central South America, is a republic with a population that speaks Spanish, Quechua, and Aymara.
==Church History Andes Mission President Vernon Sharp and his wife, Fawn, traveled to La Paz in 1961 to investigate the possibility of bringing missionaries into Bolivia. Norval Jesperson, a member, who, in 1962 became director of the American-Bolivian Center in Cochabamba, introduced to the Gospel to a number of Bolivians. As a result, Maria Van Gemerfen, became the first Bolivian to be baptized. In 1963, Jesperson, along with two other Church members, Duane Wilcox and Dube Thomas, who lived in La Paz, helped the Church gain legal status. Andes Mission President Sterling Nicolaysen arrived in Bolivia on 20 October 1964 and met with the Duane Wilcox family in La Paz and the Newell Judkins family in Cochabamba to find suitable locations to hold Church meetings. The first branch meeting in Cochabamba was held 22 November 1964 with 19 people in attendance. Missionaries arrived from the Andes Mission on 24 November 1964. Missionaries baptized Victor Walter Vallejos at Cochabamba just before Christmas in 1964.

The first Bolivian to serve a mission was Desiderio Arce Cano. While pursuing a singing career in Argentina, he was called on 25 April 1967 to return to his native land. The first missionary called from Bolivia was Carlos Pedraja. He was baptized 30 May 1965, and called to the Andes South Mission in 1968, and later served as stake and mission president, and director of seminaries and institutes in Bolivia. Martha Taborga Coca de Oruro received her missionary call to Ecuador on 31 August 1970, the first sister missionary called from Bolivia. Early Church member and leader Jorge Leano Rodriguez became the first Bolivian mission president. He was called on 16 June 1987 as president of the Colombia Cali Mission. In 1995, he was called as president of the Lima Peru Temple.
Elder Spencer W. Kimball and Andes Mission President J. Avril Jesperson met with Bolivian President Rene Barrientos Ortuno on 6 September 1966. They explained the Church's plan to create the Andes South Mission, headquartered in La Paz, and also invited him to visit the Church headquarters in Salt Lake City, which he subsequently did two years later. The Andes South Mission later became the Bolivia La Paz Mission. In 1968, there were about 350 members in Bolivia. That number increased to 9,700 by 1977. The Bolivia Santa Cruz Mission was organized in 1977, and was renamed the Bolivia Cochabamba Mission in 1982. The Santa Cruz Bolivia Stake, the first in Bolivia, was organized 14 January 1979. More than 4,300 members attended an area conference in La Paz on 3 March 1977, with President Spencer W. Kimball, who also met with the head of state, President Hugo Bonzer Suarez.
At the close of the 1980s, some political extremists carried out random attacks on Church meetinghouses and tragically assassinated missionaries Jeffrey Ball and Todd Wilson in La Paz on 24 May 1989. During this period Bolivian members became more united and many of the youth committed themselves to serve full-time missions. Despite the opposition, Church growth continued, and in 1991, there were more than 4,000 baptisms in Bolivia. On 15 January 1995, workers completed the construction of the 100th meetinghouse in Bolivia, the first having been built by local Church members in Quiriza in 1969.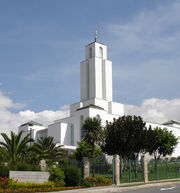 The Cochabamba Bolivia Temple is the 82nd operating temple of The Church of Jesus Christ of Latter-day Saints (LDS Church) and the 1st temple completed in Bolivia (2000).
Easily visible from the grounds of the Cochabamba Bolivia Temple is the Cristo de la Concordia (Christ of Peace) statue atop San Pedro hill. It is largest statue of Christ in the world, surpassing the more famous Cristo Redentor (Christ the Redeemer) statue in Rio de Janeiro by just a few centimeters. Both are 33 meters tall because Christ lived 33 years.
The Cochabamba Bolivia Temple was dedicated by President Gordon B . Hinckley on 30 April 2000, following a five-day open house in which 65,570 people visited. By the year 2000, there were 118,000 members of the Church in Bolivia.
In 2002, membership reached 133,170.
See Also
Sources
Sources: Carlos Pedraja, Historia de la Iglesia en Bolivia, 2001; Sistema Educativa de la Iglesia, La Historia de la Iglesia en Bolivia, 1964-1985; Andes Mission, Manuscript history, Church Archives; Andes Mission history [ca. 1960-1962], Church Archives; Dell Van Orden, "Love, Respect and Emotion End Area Conference Series," Church News, 12 March 1977; "Some Missionaries in Bolivia, Peru Are 'Redeployed,'" Church News, 15 July 1989; Allen Litster, "Pioneering in the Andes," Ensign, January 1997; "The Church in Bolivia, Colombia, Ecuador, Peru, and Venezuela," Ensign, January 1997; "President Hinckley Visits South America, Florida, Washington, D.C.," Ensign, February 1997.