Stake History
2021 New Stake Creation
The Church organized its second stake in Ukraine on April 25th - nearly 17 years after the creation of the first stake in Kyiv. The Kharkiv Ukraine Stake was organized from the Kharkiv Ukraine District and the Ukraine Dnipro Mission. Created by Elder Christoffel Golden, General Authority Seventy, and Elder Kyrylo Pokhylko and Elder Oleksiy H. Hakalenko, Area Seventies.
There were 10 branches within the boundaries of the present Kharkiv Ukraine Stake immediately prior to the stake's creation. Information on which branches have become wards remains unavailable. The creation of the new stake appeared to be years in the making as the present-day boundaries of the stake once included another district based in Dnipro and there were several additional branches within the former two districts which were gradually consolidated to create larger congregations. There are now two stakes and three districts (four if Crimea is included) in Ukraine.[1]
KHARKIV UKRAINE STAKE: (April 25, 2021) President — Pavel S. Mikhailovskii, 27, business development manager; wife, Diana Olegovna Fedotova Mikhaylovskaya. Counselors — Valeryi A. Myroshnychenko, 58, radio mechanic; wife, Natalia Grigoreivna Efimova Myroshnychenko. Anton S. Mikhailovskii, 33, More Good Foundation video production manager; wife, Anastasia Andreevna Brishtel.[2]
Ukraine Home Centered Church Opportunities
We teach that true religion begins in the home: "Home Centered / Church Supported". To that end families may consider the following local resources and programs to strengthen your core beliefs and values:

1. Come Follow Me: - Daily & Weekly family gospel study
2. Vanguard Scouting: - Featuring age-appropriate Family Activities, Service, Crafts, Field Trips, & Outdoor Adventures. The Benefits of Scouting are many, and there are lots of personal growth ideas to help your family pursue the new Churchwide Children & Youth Program.
3. LIFE School Curriculum: an LDS gospel based homeschool program that is built on the foundation of the scriptures, giving the child a sense of who he is and setting him on the path of discovering his divine mission. It is presented in a four year chronological rotation, integrating all areas of study to create a clear picture of the history of our world.
4. Family History: Resources to help you explore your family tree
Mormon Pioneers - 200+ stories of early faithful Latter-day Saint pioneers.
Familypedia - Come help build Ukraine's largest Family History online Encyclopedia.

5. Local Recreation:
Ukraine Scouting - Outdoor Trails, camping, museums and other family attractions.
Pioneer Treks
See Also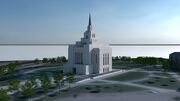 The Kyiv Ukraine Temple is the 134th operating temple of The Church of Jesus Christ of Latter-day Saints, (LDS Church) and the 1st temple completed in Metropolitan Ukraine.
References