#14: Howard W. Hunter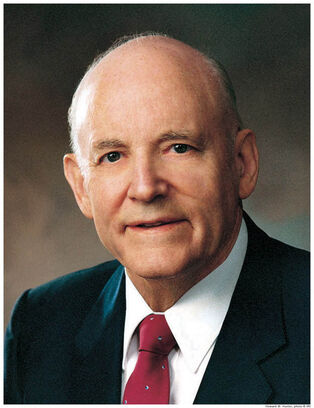 An American lawyer and the 14th president from 1994 to 1995. His nine-month prophetic tenure is the shortest in the church's history. Hunter was the first prophet of the LDS Church born in the 20th century and the last to die in it. He was sustained as an LDS apostle at the age of 51, and served as a general authority for over 35 years.
Prior to his call as an apostle, Hunter held several leadership positions in the LDS Church. He was the first president of the church's Pasadena California Stake, where he had also served as a bishop.[1]
Hunter became a member of the Quorum of the Twelve Apostles in 1959. He filled a vacancy in the Quorum created when apostle Henry D. Moyle was added to the First Presidency following the death of Stephen L Richards, a counselor in the First Presidency. As an apostle, Hunter led church negotiations to acquire land in Jerusalem to build the BYU Jerusalem Center, which he dedicated in 1989.
References
See Also