Jurassic World: Dominion Dominates Fandom Wikis - The Loop
Play Sound
Overview
History
The Houston Texas Temple was the second temple built in Texas, following the Dallas Texas Temple (1984).
Land Purchase
Also in attendance at the groundbreaking ceremony was a gentleman by the name of Don Hand, the former land owner of the temple site who worked with Church officials to find the right architect for the beautifully designed temple. In the mid-1980s, when the Houston economy took a downturn, Mr. Hand was hit so hard that he feared bankruptcy. He prayed to the Lord and begged His assistance promising to pay Him back in the future. Mr. Hand was spared financial ruin.
As a developer, Mr. Hand originally purchased 2,000 acres in the area of the temple site and had painted a scene for his wife of his conception of the area's future grandeur. The land had been on the market prior to President Gordon B. Hinckley's site-selection trip to Houston, but when he visited the city it was not available. He viewed the location anyway and informed Realtor Steve Cook that it was the desired site. However, in response to Brother Cook's queries, Mr. Hand indicated, "No amount of money would interest me in selling that property."
The agent persisted and eventually discussed the intended usage of the land, to build a temple for the Church. Mr. Hand's heart softened. He remembered his promise to the Lord so many years earlier and realized that this would be the perfect opportunity to fulfill it. He agreed to sell. [1]
2017 Floods
The historic flooding in Southeast Texas created by Hurricane Harvey breached the Houston Texas Temple on August 26, 2017, resulting in significant damage. Hurricane Harvey dropped a record rainfall of 52 inches in Houston in late August. The baptistry flooded to the top, and water reached waist deep in some areas of the basement. Several inches of water on the main floor ruined carpet and furniture. The temple was temporarily closed for repairs. The temple was rededicated in by Elder M. Russell Ballard on 22 April 2018.[2]
Temple presidents
Notable temple presidents have included:
Temple District
Southeast Texas (Houston)
Stakes
Access
Template:Main article Temple access is available to church members who hold a current temple recommend, as is the case with all operating Latter-day Saints temples. An adjacent visitors center is open to the public. An LDS Church meetinghouse is across the street on the East, which is also open to the public.
See Also
References
↑

[ Church News, 20 June 1998]
Houston Texas Temple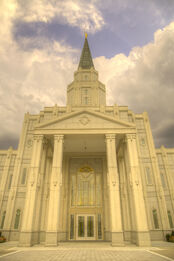 Houston Texas Temple is the second temple of the church for Texas. Originally dedicated in 2000, it was closed after the damaging floods of Hurricane Harvey in August 2017. It has seen been refurbished and rededicated for service to the Lord.