History of St. George Utah Stake
Oldest Stake in Washington County (1869)
9th Oldest Continually Active Stake in the Church
LDS Pioneer History Sites
LDS History Sites in Southwest Utah:
1865 Church Leaders
Robert Gardner (1819-1906) - In 1862 he was set apart as Bishop of St. George by President Erastus Snow. He was later set apart as first councilor to Joseph W. Young, President of the St. George Stake. President Young died in 1875 and Robert Gardner with A.F. McDonald as second councilor, presided over the Stake until J.D.T. McAllister was put in as President.
John D.T. McAllister - Missionary, Wagon Pioneer, Stake President and then Temple President in St. George.
David Henry Cannon (1838-1924) - LDS Missionary to California (1857) and England (1869), led a 1861 Wagon train leader to Utah and was part of the

Dixie Mission

that same year where he became originated the Sego Lily Story. Member of St. George Stake high council, stake presidency and the served nearly 30 years as president of the St. George Utah Temple.
20th Century
Bruce Clark Hafen (1940)|Bruce C. Hafen (1940) - President of

Rick's College

(1978-85) and President of St. George Utah Temple (2010-13), and

General Authority Seventy of LDS Church

(1996-2010). Also a counselor of the local stake presidency.
Orval Hafen (1903-1964) was a Utah State Senator and president of the Utah Bar Association. He was a key figure in the long process that by the start of the 21st-century had made St. George a key center of retirement and growing community. Also a counselor of the local stake presidency.
1961 East Stake Creation
2019 Stake Center Fire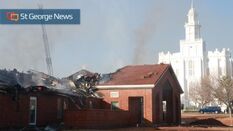 26-Jan-2019 : The new St. George Utah East Stake Center Building which was shortly to be dedicated and occupied was totally destroyed by a suspicious fire in the early morning hours.
Stakes of Washington County
Washington County
Missing St. George West Stake
Missing: #102: ZionPark Stake - From 1929, Claudius Hirschi.
See Also :
.