Estaca Guarantinqueta Brasil
História da Estaca
2020 Nova Presidencia de Estaca
GUARATINGUETÁ BRAZIL STAKE: (March 8, 2020) President — Jean Soldi Esteves, 45, lawyer, Esteves & Esteves Law, vice rector and professor, University of Taubaté; succeeding Dion W. Martins; wife, Ariadne Abrão da Silva Esteves. Counselors — Paulo Sergio Batista Barbosa, 55, owner, Copiadora Idêntica, and aeronautics officer, Defense Ministry; wife, Nancy do Nascimento. Leonardo Arthur Henrique, 40, art director, Verge Agency; wife, Samara Cristina Limongi Henrique.[1]
Oportunidades da Igreja Centrado na Lar no Brasil
Ensinamos que a verdadeira religião começa em casa: "Lar centrado no lar / Igreja apoiada". Para esse fim, as famílias podem considerar os seguintes recursos e programas locais para fortalecer suas crenças e valores essenciais:
1. Vem, e Segue-Me:- Estudo diário e semanal do evangelho da família
2. Escotismo de Vanguarda: - Apresentando Atividades em Família, Serviço, Artesanato, Viagens de Campo e Aventuras ao Ar Livre apropriadas para a idade. Os Benefícios do Escotismo são muitas, e há muitas idéias de crescimento pessoal para ajudar sua família a buscar o novo Programa para Crianças e Jovens em toda a Igreja.
3. Currículo Escolar La Vida: um programa de ensino em casa SUD baseado no evangelho, construído com base nas escrituras, dando à criança uma noção de quem ela é e colocando-a no caminho de descobrir sua missão divina. É apresentado em uma rotação cronológica de quatro anos, integrando todas as áreas de estudo para criar uma imagem clara da história do nosso mundo.
4. História da Família: Recursos para ajudá-lo a explorar sua árvore genealógica
Pioneiros Mórmons - Mais de 200 histórias de pioneiros fiéis dos santos dos últimos dias.
Ajude a construir a maior enciclopédia on-line de história da família do Brasil.
5. Recreação local:
Escoteiros do Brasil - Trilhas ao ar livre, camping, museus e outras atrações da família.
Pioneer Treks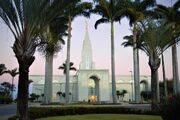 Templo do Campinas Brasil: O 111º templo em funcionamento de A Igreja de Jesus Cristo dos Santos dos Últimos Dias (Igreja SUD) e o 4º templo concluído no Brasil (2002).
Veja também
Referencias