Stake History
2021 New Stake Presidency
GRAND JUNCTION COLORADO WEST STAKE: (Oct. 24, 2021) President — Brian Jacob Burton, 46, orthodontist; succeeding Craig H. Stagg; wife, Brenda Orme Burton. Counselors — Aaron Paul Hart, 49, JB Hart Music general manager; wife, Amber Pulsipher Hart. Daniel Michael Harrison, 45, Air Compressor Services owner; wife, April Renae Martin Harrison.[1]
Mesa County Home Centered Church Opportunities
We teach that true religion begins in the home: "Home Centered / Church Supported". To that end families may consider the following local resources and programs to strengthen your core beliefs and values:

1. Come Follow Me: - Daily & Weekly family gospel study
2. Vanguard Scouting: - Featuring age-appropriate Family Activities, Service, Crafts, Field Trips, & Outdoor Adventures. The Benefits of Scouting are many, and there are lots of personal growth ideas to help your family pursue the new Churchwide Children & Youth Program.
3. LIFE School Curriculum: an LDS gospel based homeschool program that is built on the foundation of the scriptures, giving the child a sense of who he is and setting him on the path of discovering his divine mission. It is presented in a four year chronological rotation, integrating all areas of study to create a clear picture of the history of our world.
4. Family History: Resources to help you explore your family tree
Mormon Pioneers - 200+ stories of early faithful Latter-day Saint pioneers.
Familypedia - Come help build Colorado's largest Family History online Encyclopedia.

5. Stripling Warriors on Facebook - LDS Children preparing to build Zion across Colorado and around the world.
6. Local Recreation: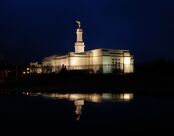 Located about 60 miles south of Moab, Utah—a recreational hot spot for bikers, hikers, and river runners—the Monticello Utah Temple sits on a gently rising slope on the west side of the little town of Monticello. In the distance, the enchanting Abajo Mountains play backdrop to the temple and the adjacent meetinghouse, joined by a shared parking lot. Patrons come from the Four Corners region.
See Also
References