Obi-Wan Finale - The Loop
Play Sound
Stake History
2008 Creation of Chandler Height Stake
Queen Creek Arizona Chandler Heights Stake, which includes the Chandler Heights , Ocotillo, San Tan Park, Seville, Seville Park, Shamrock Farms, and Valencia wards; and the same day was created the Queen Creek Arizona North Stake.
QUEEN CREEK ARIZONA CHANDLER HEIGHTS STAKE: (Feb. 17, 2008) Created from the Queen Creek Arizona Stake, Queen Creek Arizona East Stake and Queen Creek Arizona South Stake. President — Russell Lyle Richardson, 55, owner of Arizona Commercial Refrigeration; wife, Sheila Celeste Stanford Richardson. Counselors — Danny Reid Riggs, 64, farmer; wife, Karin Jane Kerby Riggs. Rodney Mac Matheson, 63, lawyer; wife, Norma Lee McInerney Matheson.
2021 New Stake Presidency
GILBERT ARIZONA SEVILLE STAKE: (Feb. 14, 2021) President — Ethan Andrew Willis, 46, Shine Solar partner and executive board member, Growth.com managing partner and Roundsquare Companies chief executive officer; succeeding Brian J. Holmes; wife, Ashley Brooke Peterson Willis. Counselors — Jordan Mackay Graff, 47, American Vision Partners partner and surgeon; wife, Laura Jeannine Brown Graff. Trevor Larry Denham, 42, Intel Corporation manager; wife, Melissa Ann Taucher Denham.[1]
Maricopa County Home Centered Church Opportunities
We teach that true religion begins in the home: "Home Centered / Church Supported". To that end families may consider the following local resources and programs to strengthen your core beliefs and values:

1. Come Follow Me: - Daily & Weekly family gospel study
2. Vanguard Scouting: - Featuring age-appropriate Family Activities, Service, Crafts, Field Trips, & Outdoor Adventures. The Benefits of Scouting are many, and there are lots of personal growth ideas to help your boys and girls to pursue the new Churchwide Children & Youth Program.
3. LIFE School Curriculum: an LDS gospel based homeschool program that is built on the foundation of the scriptures, giving the child a sense of who he is and setting him on the path of discovering his divine mission. It is presented in a four year chronological rotation, integrating all areas of study to create a clear picture of the history of our world.
4. Family History: Resources to help you explore your family tree

5. Stripling Warriors on Facebook - LDS Children preparing to build Zion across Arizona and around the world.
6. Local Recreation: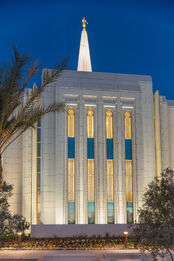 On May 15, 2012, hundreds of spectators gathered to the Gilbert Arizona Temple to witness the raising of the gold-leafed angel Moroni statue atop the single central spire. Numerous students, who attend a grade school across the street from the temple, gathered in the school parking lot that day with their families. As Moroni began his flight, a large group of middle school students created a spiritually poignant moment as they broke into song, singing the Primary favorite I Love to See the Temple.
See Also
References