Jurassic World: Dominion Dominates Fandom Wikis - The Loop
Play Sound
Stake History
2020 Heritage Stake Creation
The Church organized a new stake in Arizona on September 13th. The Queen Creek Arizona Heritage Stake was organized from a division of the Gilbert Arizona Gateway Stake, the Queen Creek Arizona North Stake, and the Queen Creek Arizona West Stake. The new stake includes the following seven wards: the Desert Mountain, Gateway Married Student, Hawes, Quail Creek, Queen Creek Station, Queens Park, and Remington Heights Wards. There are now nine stakes in Queen Creek, Arizona, and there are two additional stakes in San Tan Valley. There are now 116 stakes in Arizona.
Maricopa County Home Centered Church Opportunities
We teach that true religion begins in the home: "Home Centered / Church Supported". To that end families may consider the following local resources and programs to strengthen your core beliefs and values:

1. Come Follow Me: - Daily & Weekly family gospel study
2. Vanguard Scouting: - Featuring age-appropriate Family Activities, Service, Crafts, Field Trips, & Outdoor Adventures. The Benefits of Scouting are many, and there are lots of personal growth ideas to help your family pursue the new Churchwide Children & Youth Program.
3. LIFE School Curriculum: an LDS gospel based homeschool program that is built on the foundation of the scriptures, giving the child a sense of who he is and setting him on the path of discovering his divine mission. It is presented in a four year chronological rotation, integrating all areas of study to create a clear picture of the history of our world.
4. Family History: Resources to help you explore your family tree
Mormon Pioneers - 200+ stories of early faithful Latter-day Saint pioneers.
Familypedia - Come help build Arizona's largest Family History online Encyclopedia.

5. Stripling Warriors on Facebook - LDS Children preparing to build Zion across Arizona and around the world.
6. Local Recreation: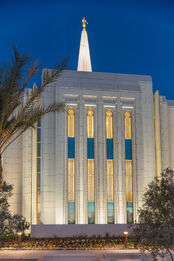 On May 15, 2012, hundreds of spectators gathered to the Gilbert Arizona Temple to witness the raising of the gold-leafed angel Moroni statue atop the single central spire. Numerous students, who attend a grade school across the street from the temple, gathered in the school parking lot that day with their families. As Moroni began his flight, a large group of middle school students created a spiritually poignant moment as they broke into song, singing the Primary favorite I Love to See the Temple.
See Also
References