Jurassic World: Dominion Dominates Fandom Wikis - The Loop
Play Sound
Stake History
Stake History
2021 Stake Deactivated
The Church discontinued three stakes in Japan. The Church discontinued the Fujisawa Japan Stake (organized in 1998), the Musashino Japan Stake (organized in 1982), and the Saitama Japan Stake (organized in 1977). Approximately half a dozen congregations closed at approximately the same time as the discontinuation of these three stakes. All three of the stakes were located in the Tokyo metropolitan area and each had six wards (and the Fujisawa Japan Stake also had one branch as well). The Church in Japan has gradually consolidated congregations in the Tokyo metropolitan area over the past two decades, and the decision to discontinue the stakes was likely prompted due to an insufficient number of congregations to continue to operate the status quo number of stakes in the area. The Church in Japan reached an all-time high of 31 stakes in 2000. With the closure of the three stakes, there are now 25 stakes and 13 districts in Japan. Annual membership growth rates in Japan have been less than one percent since 2003.[1]
20-June "Fujisawa Japan Stake (previously Yokohama Japan South) - 528587" was discontinued and consolidated with the "Yokohama Japan Stake -507288 ". And the "Yokohama Japan Stake was renamed the "Kanagawa Japan Stake - 507288", with 10 wards.
Japan Home Centered Church Opportunities
We teach that true religion begins in the home: "Home Centered / Church Supported". To that end families may consider the following local resources and programs to strengthen your core beliefs and values:

1. Come Follow Me: - Daily & Weekly family gospel study
2. Vanguard Scouting: - Featuring age-appropriate Family Activities, Service, Crafts, Field Trips, & Outdoor Adventures. The Benefits of Scouting are many, and there are lots of personal growth ideas to help your family pursue the new Churchwide Children & Youth Program.
3. LIFE School Curriculum: an LDS gospel based homeschool program that is built on the foundation of the scriptures, giving the child a sense of who he is and setting him on the path of discovering his divine mission. It is presented in a four year chronological rotation, integrating all areas of study to create a clear picture of the history of our world.
4. Family History: Resources to help you explore your family tree

5. Local Recreation: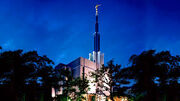 The Tokyo Japan Temple is the 18th operating temple of The Church of Jesus Christ of Latter-day Saints, the 1st temple built in Asia and in Japan. It has a compact style that was a precursor for later buildings in urban areas, such as the Hong Kong China and Manhattan New York temples.
See Also
References