Stake History
1st LDS Pioneers
The first Latter-day Saint family to settle at the pass was probably that of Isaac Washington Pierce, who moved there from the LDS colonies in Mexico in 1898 and established a lumber yard in Ciudad Juarez, across the Rio Grande from El Paso. The Pierce home became a stopping place for Latter-day Saints traveling through the gateway.[1]
In 1912 the El Paso Branch was formed. In that same year, a mass exodus of members from the Mormon colonies reached El Paso, called back to the United States because of the Mexican Revolution.
2020 New Stake Presidency
EL PASO TEXAS STAKE: (Sept. 27, 2020) President — Jason Kurth Constans, 44, International Paper Company complex general manager; succeeding Ruben Paredes; wife, Amy June Strong Constans. Counselors — Timothy David Jennings, 38, Texas Kids Dental Care dentist; wife, Nicole Bee Jennings. Gabriel Manuel Peña Serrano, 45, Pony Logistics broker logistics; wife, Susana Mejia Peña.[2]
Texas Home Centered Church Opportunities
We teach that true religion begins in the home: "Home Centered / Church Supported". To that end families may consider the following local resources and programs to strengthen your core beliefs and values:

1. Come Follow Me: - Daily & Weekly family gospel study
2. Vanguard Scouting: - Featuring age-appropriate Family Activities, Service, Crafts, Field Trips, & Outdoor Adventures. The Benefits of Scouting are many, and there are lots of personal growth ideas to help your family pursue the new Churchwide Children & Youth Program.
3. LIFE School Curriculum: an LDS gospel based homeschool program that is built on the foundation of the scriptures, giving the child a sense of who he is and setting him on the path of discovering his divine mission. It is presented in a four year chronological rotation, integrating all areas of study to create a clear picture of the history of our world.
4. Family History: Resources to help you explore your family tree

5. Local Recreation: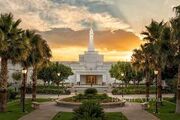 The Ciudad Juarez Mexico Temple is the 71st operating temple of The Church of Jesus Christ of Latter-day Saints (LDS Church) and the 3rd temple completed in Mexico.
References