Stake History
2011 Pioneer Museum Project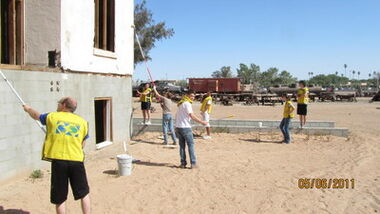 2015 New Stake Presidency
(Nov. 9, 2014) President—Keith Robert Smith Sr., 63, teacher; succeeding Jimmie A. Sanders; wife, Lynn Burnette Smith. Counselors—David Lewis Despain, 71, facilities manager for the Church; wife, Sandra B. Bingham Despain. Jacinto Cruz Jiminez, 70, insurance agency owner; wife, Virginia Alicia Borgetti Armenta. [1]
Imperial County Home Centered Church Opportunities
We teach that true religion begins in the home: "Home Centered / Church Supported". To that end families may consider the following local resources and programs to strengthen your core beliefs and values:

1. Come Follow Me: - Daily & Weekly family gospel study
2. Vanguard Scouting: - Featuring age-appropriate Family Activities, Service, Crafts, Field Trips, & Outdoor Adventures. The Benefits of Scouting are many, and there are lots of personal growth ideas to help your family pursue the new Churchwide Children & Youth Program.
3. LIFE School Curriculum: an LDS gospel based homeschool program that is built on the foundation of the scriptures, giving the child a sense of who he is and setting him on the path of discovering his divine mission. It is presented in a four year chronological rotation, integrating all areas of study to create a clear picture of the history of our world.
4. Family History: Resources to help you explore your family tree

5. Imperial Valley With Kids -Outdoor activities and events for young families in Imperial Valley.
6. Stripling Warriors on Facebook - Join LDS Youth meeting the challenge to build up Zion in their own communities.

5. Local Recreation: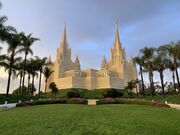 The San Diego California Temple is the 45th operating temple of The Church of Jesus Christ of Latter-day Saints. Situated near the upscale community of La Jolla in San Diego. Connecting the towers at the center is a supernal star-shaped atrium filled with a healthy, colorful garden. The atrium is accessed from the breathtaking two-story Celestial Room filled with towering art glass, suspended light fixtures, and featuring a grand staircase to an upper-level balcony.
See Also
.
San Diego Region YSA
Service Referrals
References