Estaca Curitiba Brasil Portao
História da Estaca
2020 New Stake Presidency
CURITIBA BRAZIL PORTÃO STAKE: (November 29, 2020) President — Antonio Bernardo Santanaa Marques, 61, Paraná Soluções Logísticas e Transportes Ltda managing partner; succeeding Arialdo Celli Filho; wife, Simmone Coelho Arantes Santaana Marques. Counselors — Guilherme Nunes Mourão, 39, The Church of Jesus Christ of Latter-day Saints temple facilities manager; wife, Grace Kelly Torno Mourão. Thiago Leal de Souza, 35, ExxonMobil agile coach; wife, Julliene Celia de Jesus Inacio de Souza.[1]
Oportunidades da Igreja Centrado na Lar no Brasil
Ensinamos que a verdadeira religião começa em casa: "Lar centrado no lar / Igreja apoiada". Para esse fim, as famílias podem considerar os seguintes recursos e programas locais para fortalecer suas crenças e valores essenciais:
1. Vem, e Segue-Me:- Estudo diário e semanal do evangelho da família
2. Escotismo de Vanguarda: - Apresentando Atividades em Família, Serviço, Artesanato, Viagens de Campo e Aventuras ao Ar Livre apropriadas para a idade. Os Benefícios do Escotismo são muitas, e há muitas idéias de crescimento pessoal para ajudar sua família a buscar o novo Programa para Crianças e Jovens em toda a Igreja.
3. Currículo Escolar La Vida: um programa de ensino em casa SUD baseado no evangelho, construído com base nas escrituras, dando à criança uma noção de quem ela é e colocando-a no caminho de descobrir sua missão divina. É apresentado em uma rotação cronológica de quatro anos, integrando todas as áreas de estudo para criar uma imagem clara da história do nosso mundo.
4. História da Família: Recursos para ajudá-lo a explorar sua árvore genealógica
Pioneiros Mórmons - Mais de 200 histórias de pioneiros fiéis dos santos dos últimos dias.
Ajude a construir a maior enciclopédia on-line de história da família do Brasil.
5. Recreação local:
Escoteiros do Brasil - Trilhas ao ar livre, camping, museus e outras atrações da família.
Pioneer Treks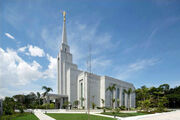 Templo do Curitiba Brasil: O 126º templo em funcionamento de A Igreja de Jesus Cristo dos Santos dos Últimos Dias (Igreja SUD) e o 5º templo concluído no Brasil (2008).
Cercado por árvores em um belo pedaço de terra no distrito de Campo Comprido, no oeste de Curitiba, este templo está convenientemente localizado próximo à parada de ônibus da Unidade Saúde Campo Comprido, perto do Shopping Barigui. A decoração dos jardins requintados é uma grande característica da água, belos jardins e inúmeras árvores. O público é convidado a andar pelos jardins.
Veja também
Referencias