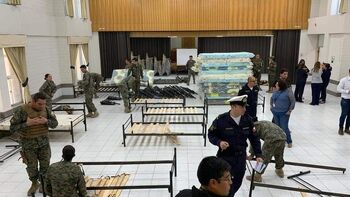 How The Church is handling the 2020 Coronavirus Pandemic:
19-May-2020: Limited Church Sunday Services allowed to resume (See section below)
11-May-2020 : LDS Church Begins Phase I Reopening:
Today the church announced plans to reopen 17 temples on 11-May-2020 (Monday?) to perform living marriages and sealings for member previously endowed.[1]
12-Mar-2020 : All Church Meetings Canceled Worldwide by 1st Presidency:
An ongoing outbreak of coronavirus disease 2019 (COVID-19), caused by the SARS-CoV-2 virus, started in December 2019. It was first identified in Wuhan, the capital of Hubei, China. As of 27 February 2020, 82,589 cases have been confirmed, including in all provinces of China and fifty other countries. Of these, 8,469 cases were classified as serious. There have been 2,811 deaths attributable to the disease, including 67 outside mainland China, surpassing that of the 2003 SARS outbreak. More than 32,000 people have since recovered.[2]
Current News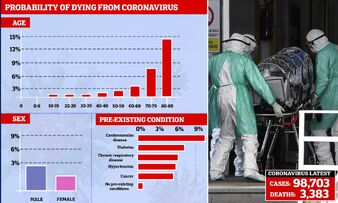 The attached stats chart shows that those with the highest risk are the elderly and those with pre-existing health conditions.
Feb 2020 Church Send Med Supplies to China
As concerns regarding the respiratory illness coronavirus continue to rise, Russell M. Nelson, president of The Church of Jesus Christ of Latter-day Saints, inquired of his longtime friends in China as to what might be needed. Through these efforts, the Church learned of a need for protective equipment at the Shanghai Children's Medical Center, where supplies have been depleted because of the outbreak in Wuhan. In partnering with Project HOPE, plans are being made to distribute the needed supplies.[3]
Newsroom Update: 05-Feb-2020 : Hong Kong Mission closure
Source: Hong Kong Mission Closure
In light of the coronavirus and the increasing difficulty of conducting missionary work in

Hong Kong

and Macau, The Church of Jesus Christ of Latter-day Saints is transferring 113 missionaries out of the China Hong Kong Mission over the next few days. These missionaries will be temporarily reassigned to other missions or, if they were nearing their scheduled release date, will return home and be honorably released. Twelve additional missionaries who are from Hong Kong will return to their homes and be released from service until the situation has stabilized.
Note:

Hong Kong Temple

was previously closed on 8-July-2019 for an extensive renovation : [4]
Newsroom Update: 20-Feb-2020
Source: Church Newsroom Source: Deseret News Temple Closures
All missionaries in the

Cambodia Phnom Penh Mission

,

Singapore Mission

, and

Thailand Bangkok Mission

have been instructed to remain in their apartments and avoid going outside except to purchase food and other supplies, to exercise, or to attend worship services (where held). Whenever they are outside, missionaries are urged to stay at least six feet away from others and avoid any personal interaction. During this time, missionaries will teach people through phone calls or other technology.
Similar precautions in place for

Mongolia Ulaanbaatar Mission

and throughout all of

South Korea

.
Taipei Taiwan Temple has been closed temporarily,
Seoul Korea Temple will temporarily close beginning Saturday 29-Feb-2020.
Korea Church Quarantine : Feb 2020
Note: This church has no affiliation with any Mormon Sect, but is an example of how church congregation is at risk to spread of the disease: (N.P.R. 24-Feb-2020)
"Health authorities are also focusing resources on the Shincheonji Church of Jesus, founded in 1984 by charismatic pastor Lee Man-hee, whose followers, estimated at up to 240,000 worldwide, believe he is the messiah. Shincheonji is Korean for "new heaven and earth." Its critics say it's a cult. Authorities are not sure how the disease was first transmitted to the group, but investigators have been looking into it. More than 9,000 Shincheonji members have been put under quarantine, and the government plans to test all of them for the virus.
Japan School/Church Closure: 27-Feb-2020
Prime Minister Shinzo Abe on Thursday asked all elementary, junior high and high schools nationwide to close from Monday through the students' spring break, which typically ends in early April. Later Thursday, the health and welfare ministry said Abe's request does not apply to day care centers for children and after-school facilities for elementary school students.[6]
Abe's surprise announcement came as the number of confirmed COVID-19 virus patients kept surging, exceeding 200 across Japan as of Thursday evening, excluding the more than 700 infected patients related to the virus-hit Diamond Princess cruise ship.
Also thursday social media circulated copies of a Church email announcing a similar closure of all LDS Church buildings in Japan. Later on Thursday this closure was confirmed by the Church.[7]
"Effective immediately and until further notice, all church buildings in Japan will be closed. ALthough members will not gather together for SUnday meetings, including sacrament meeting, all are encouraged to meet in their homes as families. Where possible wards and branches may share spiritually uplifting messages and conduct church business via online media."
Other tidbits:
Sapporo Japan Temple and Fukuoka Japan Temples will be closed.
All church office buildings/family history centers will be closed.
Stake/District conferences have been canceled
Missionaries must stay isolated form the public, but can proselyte online.
27 Feb 2020: Church Discourages Conference Travel
Church discourages international members from traveling to April general conference out of 'abundance of caution' over coronavirus. The Church of Jesus Christ of Latter-day Saints announced Thursday that it has canceled the leadership session of its April general conference and said that "members of the church living outside the United States are discouraged from traveling to the United States to attend the general conference sessions."
"General Authorities serving outside of the United States and all Area Seventies are excused from attending the general conference in Salt Lake City," a news release said. Church leaders had been scheduled to hold leadership sessions for General Authorities, Area Seventies and General Officers of the church on April 2-3. The other sessions of conference are still scheduled on April 4-5.[8]
2 Mar 2020: Singapore Closure
Travelers walked through the doors of a church meetinghouse in Singapore Stake on Sunday expecting to find a typical Sunday worship service of The Church of Jesus Christ of Latter-day Saints. Instead, the building was empty.[9]
Due to the coronavirus emergency, the Italy Rome Temple is now closed.[10]
Meanwhile, a stake north of Seattle, Washington, has canceled all church activities and church worship services through Sunday in accordance with a government request to cancel or postpone nonessential large gatherings because of COVID-19. [11]
Bothell Washington Stake President Kenneth Williams confirmed that his Seattle-area stake has canceled sacrament meetings and other activities for the rest of the week and on Sunday to follow guidelines published by King County health officials.
The coronavirus spreading through the Puget Sound area prompted The Church of Jesus Christ of Latter-day Saints to close the Seattle Washington Temple on Friday and cancel its largest meetings there.
The decision was made after Washington Gov. Jay Inslee requested that no large gatherings be held. The church canceled all stake conferences and priesthood leadership councils in the Seattle area. Smaller meetings, including sacrament meetings — the weekly Sunday worship service — will continue in some areas. The greater Seattle area has 70 confirmed cases of COVID-19 and 11 confirmed deaths. [12]
8 March 2020 : More Congregation Closures
8 Wards of the San Francisco California Stake - The Golden Gate Ward in San Francisco live-streamed its meeting to the homes of members, said Austin Hollan, who watched from home and administered the sacrament to his wife and their 18-month-old son. The speakers, pianist, chorister, those giving the opening and closing prayers and a few others gathered in the meetinghouse on Pacific Avenue.[13]
"The city of San Francisco has declared a state of emergency because of the virus and asked all organizations and communities not to gather for any larger meetings unless they are absolutely necessary," Hollan said.
The church announced Sunday that meetings had been limited or temporarily suspended for the first time in Germany and the United Kingdom.
Congregations in the

Bern Switzerland Stake

cancelled sacrament meetings for the second week in a row, according to Ashley Lehmann, whose brother-in-law is a member of the stake.
Verona Italy Stake President Andrea Cordani said virtual sacrament meetings took place for a second straight week in northern Italy, a hot spot for the virus, as the Deseret News first reported last week.
The full list of nations or regions where the church meetings have been affected includes Cambodia, China, Germany, Hong Kong, Indonesia, Italy, Japan, Korea, Laos, Macau, Malaysia, Mongolia, Myanmar, Singapore, Switzerland, Taiwan, Thailand, Timor-Leste, the United Kingdom, the United States and Vietnam.[14]
8 Mar 2020: Newcastle Church Quarantine
A church which had to close because a member of its congregation tested positive for coronavirus said he had no symptoms when he attended worship. The Church of Jesus Christ of Latter-day Saints in Newcastle will shut until the end of March but is not believed to be where the man contracted the virus.
Public Health England (PHE) has spoken to those he come into contact with. "Had he not come to church, he would have gone somewhere else," the church's representative Scott Spencer said. He said the initial reaction was that it was "going to reflect terribly on the church". "But he could have gone to the Metro Centre, he could have gone to a Newcastle match," he said.
Mr Spencer said the church, in Fawdon, was aware it would be scrutinised by people keen to know if they are at risk. "Our obligation is just to react responsibly and take the necessary precautions," he said. "We are mindful of the individual who is currently affected by this virus and are providing whatever support we can to them and their family. [15]
There are unconfirmed reports that the Bolton Ward in Lancashire was also closed today for quarantine.
11 Mar 2020 : Gen Conference Restrictions Announced
Lots of announcements today on Covid-19 by the church to restrict large gatherings in the future. The First Presidency and Quorum of the Twelve Apostles of The Church of Jesus Christ of Latter-day Saints sent the following letter Wednesday, March 11, 2020, to members of the Church worldwide.
Apr 2020 Gen Conf Changes - Sessions will be done virtually; members will not gather at the Conference Center in Salt Lake City or at stake centers or meetinghouses in areas where COVID-19 is active
Virtual MTC's for Provo and England - Beginning March 16, 2020, all missionaries scheduled to enter missionary training centers in Provo, Utah, or Preston, England, will be trained remotely by video conference
Large Gatherings Postponement - Beginning March 16, 2020, stake and other large gatherings will be postponed in Asia, Asia North, Europe, Europe East, the United States and Canada Areas. (The term large gatherings is not defined.)
"In relation to weekly worship services, activities and other meetings, members should follow the guidance of their local leaders, who will receive direction in the usual manner."
12 Mar 2020 : Europe Missionaries Sent Home
The Church announced today that all senior missionaries serving in some 22 missions in Europe will be sent home immediately. Additionally all young missionaries with chronic health problems are going home from Europe. These missionaries have less than 24 hours before Pres Trumps US-Europe Travel ban takes effect. [16]
11-Mar-2020 : USA States Limit Size of Meetings
Most stake presidents and bishops have said they intend to follow these goverment directives.
California Governor Newsom asks all churches, etc to limit large gatherings to no more than 250.[17]
Utah Governor asks all churches, etc to limit large gatherings to no more than 100 people.[18]
11-Mar-2020 : BYU to only Stream Devotionals
More temples close. BYU Women's Conference canceled. BYU, BYU-Idaho, to cancel or stream devotionals, graduations:
The Church Educational System has adopted pandemic-related guidelines Wednesday that will either cancel graduations, devotionals and performances at Brigham Young University and other schools operated by The Church of Jesus Christ of Latter-day Saints or lead them to be broadcast without audiences.
The BYU Women's Conference scheduled for April 30-May 1 is the first confirmed casualty of the guidelines. The popular conference annually draws more than 10,000 women to campus, but it won't be held there this year, university spokeswoman Carri Jenkins confirmed.
The temples closed Wednesday by the church are those in Asunción, Paraguay; Boston, Massachusetts; Copenhagen, Denmark; Louisville, Kentucky; and Manhattan, New York. The church now has closed 12 temples on four continents.
12-Mar-2020: Church Canceled Worldwide
First Presidency: All church meetings temporarily canceled worldwide
All meetings and activities of The Church of Jesus Christ of Latter-day Saints are temporarily canceled, effective immediately.
The First Presidency and Quorum of the Twelve Apostles made the joint announcement in a statement on the same day that Utah Gov. Gary Herbert asked churches, among others, to limit gatherings to fewer than 100 people for two weeks.
"Beginning immediately, all public gatherings of church members are being temporarily suspended worldwide until further notice," the statement said. "This includes stake conferences, leadership conferences and other large gatherings; all public worship services, including sacrament meetings; (and) branch, ward and stake activities."
The church leaders said bishops should counsel with their stake president to determine how to make the sacrament, the sacred weekly ordinance in which they renew their covenants with God to live in harmony with Christ's teachings and commandments, available to members at least once a month. [20]
This announcement was expected since a key part of the church includes two high risk groups:
Most temples are staffed by retired elderly volunteers who are vulnerable to the virus.
General Authorities travel weekly to many conferences and could become major carriers/transmitters of the virus.
13-Mar-2020: Temple Updates
Many places where schools have closed have also stopped in-person seminary, switching to either home seminary or online seminary.
A few temples remain open, but only to do live ordinances. All proxy work brought to a pause.[21]
15 Mar 2020 : First Sunday - No Church Services
This marks the first sabbath day with no congregational meetings for the church.
16 Mar 2020 : Changes for USA Missionaries
LDS Church will keep calling missionaries, but some may serve in other areas at first. More missionaries to come home early. Missionary work of The Church of Jesus Christ of Latter-day Saints will go on and calls will continue to go out, despite the coronavirus pandemic, but some proselytizers will come home early from their tours.
"Missionary recommendations will continue to be received, and missionary assignments for worldwide service will continue to be made," church leaders said in a Monday news release. But some new missionaries may start out temporarily in other places, and some existing missionaries may be — and have been — shifted as well. [22]
17 Mar 2020 : Church History Sites Closed
The Church of Jesus Christ of Latter-day Saints announced the closure of all church historic sites Monday afternoon to help combat the spread of COVID-19. [23]
18 Mar 2020 : Additional Temple Work Adjustments
Church leaders announce additional adjustments relating to temple work:
Temples will only accept appointments for living ordinances from members residing within the local temple district. [24]
18 Mar 2020 : Sending Missionaries Home from Africa
Church sending most missionaries in Africa home for isolation, reassignment. Most of the Latter-day Saint missionaries in Africa will go home to self-isolate for two weeks and then receive temporary reassignment to other missions around the world, according to a release issued Wednesday evening. Church leaders reached the decision due to the COVID-19 pandemic and new travel regulations implemented by African governments.
The move affects nonnative missionaries in 26 of the 34 missions in Africa operated by The Church of Jesus Christ of Latter-day Saints. The church did not say how many missionaries would be moved.[25]
19 Mar 2020 : More Adjustments to Gen Conf
Additional Adjustments to the April 2020 General ConferenceThe First Presidency will conduct each session from a small gathering space on Temple Square. Music for conference has been pre-recorded.
Each session will be broadcast from a small auditorium on Temple Square. The First Presidency will preside and conduct those sessions, and only those who have been invited to speak or pray will attend. [26]
All choir musical numbers will be pre-recorded: </ref>[https://www.hjnews.com/news/local/latter-day-saint-leaders-nix-live-choir-for-general-conference/article_db8cd89b-b6d5-59c3-9575-92617cf0b3c5.html Herald Journal[</ref>
20 Mar 2020 : More Missionaries Coming Home
Church: 'Substantial numbers' of missionaries may return to home nations; mission lengths may be reduced; all MTCs will stop accepting new missionaries. [27]
23 Mar 2020 : Massive Missionary Move Underway
The massive effort by church, started the prior week to return most missionaries to their home countries is underway with many reports in both mainstream media and on social media. There is a sense of urgency to this effort as many countries have either stopped already, or are threatening to stop all international travel. Additional reports of more missionaries awaiting flights home. It is generally expected that all missionaries with enter a 14-day mandatory self-quarantine before transferring to a new mission assignment in their home country.
23 Mar 2020 : Utah's First Covid-19 Death
1st Utahn to die of COVID-19 attended Bountiful temple last week, church confirms. The Bountiful Utah Temple is now closed, the first temporary closure in Utah over coronavirus concerns.
Hours after the news conference, the church announced on Sunday evening that it had closed the temple. The Bountiful temple was the first of the church's 17 Utah temples to close due to the pandemic. On Monday afternoon, the church announced it has closed the Oquirrh Mountain Utah Temple in South Jordan.
There are now 91 temples around the world closed because of the pandemic - Click Here for the full List;
26 Mar 2020 : All Temples Closed
All Latter-day Saint temples will close tonight due to coronavirus pandemic. 'This is a temporary adjustment, and we look forward to the day when the temples will reopen,' First Presidency says in letter.
As of Tuesday night, 112 of the faith's 168 temples around the world had closed, including all of those in Europe, Asia and Australia. Those still operating were strictly limited to gatherings of 10 or fewer people and to the performance of living ordinances.
On March 13, the First Presidency and Quorum of the Twelve Apostles suspended all proxy ordinances in every temple around the world. At that point, 13 temples were closed. The 56 temples operating under the limitations on Wednesday were mostly in North America. The only ones open on other continents were the Johannesburg South Africa, Montevideo Uruguay, Nuku'alofa Tonga and Suva Fiji temples.[32]
26 Mar 2020 : Pres Nelson Video
Video Link: President Nelson invites all to participate in worldwide fast Sunday (29-Mar-2020) and to pray for relief from coronavirus pandemic. In a videotaped message released Thursday, President Russell M. Nelson called for worldwide fasting on Sunday along with prayer for relief from the global coronavirus pandemic's "physical, emotional and economic effects."
The president and prophet of The Church of Jesus Christ of Latter-day Saints invited members of the faith and their friends to join him in the fast and unite their faith to plead for divine strength.
"As a physician and surgeon, I have great admiration for medical professionals, scientists. and all who are working around the clock to curb the spread of COVID-19," said President Nelson, who was a pioneer of open-heart surgery. "I am also a man of faith, and I know that during these challenging times, we can be strengthened and lifted as we call upon God and his Son, Jesus Christ — the Master Healer.
30 Mar 2020 : Missionary Deferment
Many missionaries have new option to continue when it's safe or return to mission field in 12-18 months [33]
04 Apr 2020 : General Conference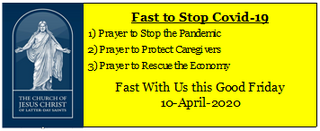 4-Apr-2020 : 190th General Conference - "A Conference like no other"
13 Apr 2020 : FSY Conferences Postponed
Over 300 regional FSY Conferences planned for 2020 are being postponed to year 2021. [34]
14 Apr 2020: Church approves 110 Covid-19 Relief Projects
First Presidency has approved humanitarian projects in 57 countries to battle COVID-19] - Church approves 110 global coronavirus aid projects, asks Utah members to help sew 5 million medical masks for healthcare workers.
16 Apr 2020: Church Updates Ordinance Instructions
The First Presidency issued a letter with two detailed documents outlining directions for essential ordinances, blessings and other church functions during challenging or exceptional times. The church posted an additional document with questions and answers specific to the COVID-19 pandemic on its Church Newsroom website.
The leaders reiterated the longstanding principle that the church and its members will follow all laws. Another guiding principle is that "priesthood ordinances cannot be performed remotely using technology. When circumstances require, others may observe the ordinance remotely using technology if authorized by the presiding authority."
30 Apr 2020: Church Cancels 2020 Camps, Treks and Pageants
Due to the ongoing impact of the COVID-19 pandemic, Church recreational properties in the United States and Canada used for youth camps and conferences are closed until further notice. In addition, all treks and Church pageants are canceled for 2020.[35]
01 May 2020: Missionary Reassignments Begin
The process of reassigning these missionaries to missions in their home countries is underway, and they have started receiving their new assignments. All reassignments are being made by a member of the Quorum of the Twelve Apostles. Many missionaries throughout the world have already begun their new assignments, and some missionaries in the United States and Canada will depart for their new assignments beginning next week.[36]
Reopening of the Church Starts
06 May 2020: Pres Nelson Video
In a video posted on his social media channels on Wednesday, May 6, President Nelson addressed the reintegration of Church worship and activities. Instructions for when and where gatherings may resume will be communicated clearly, step-by-step, he said. [37]
07 May 2020: Church Reopens 17 Temples
Today the church announced plans to reopen 17 temples on 11-May-2020 (Monday?) to perform living marriages and sealings for member previously endowed.[38]
19-May-2020: LDS Church to allow limited Worship Services to Resume
Phase 1 reopening to allow shortened sunday meetings of 99 or less. Avoid overlapping meeting schedules. First requires approval of Area Authorities and local government leaders.
11-Sep-2020: LDS Ward Sacrament Meetings to Resume
Latter-day Saint congregations around the world are returning to weekly sacrament meetings, though they may be virtual or hybrid events where pandemic conditions do not allow gatherings, the First Presidency of The Church of Jesus Christ of Latter-day Saints announced Friday. Hybrid meetings that allow some church members to gather and others to participate by video also are permitted, according to a letter issued by the First Presidency and a news release. [39]
October 2020 Virtual Conference
LDS Member Stories
Stories from individual members impacted by the pandemic
Ben McAdams, active member of the church who served a full-time mission to Brazil, former mayor of

Salt Lake City

and current democratic member of Congress, announced that he has tested positive for the disease. [40]
Andersons: Utah couple quarantined on cruise liner near Canary Islands[41]
Jorgensens: Mark and Jerri Jorgensen were quarantined on their cruise ship the Diamond Princess for two weeks. During the quarantine, Jerri tested positive for the COVID-19 coronavirus. After Cruise Ship Coronavirus Outbreak, Utah Couple Quarantined On Separate Continents. Jerri Jorgensen is staying in a hospital in Fukushima, Japan, while John Haering is in isolation in a hospital in Chiba. Jorgensen has shared numerous videos on Facebook of the gifts delivered to her from members of The Church of Jesus Christ of Latter-day Saints, including a wide variety of fresh fruit and local treats.[42][43]
Newcastle England: Newcastle church member 'had no symptoms' at worship. A church which had to close because a member of its congregation tested positive for coronavirus said he had no symptoms when he attended worship. The Church of Jesus Christ of Latter-day Saints in Newcastle will shut until the end of March but is not believed to be where the man contracted the virus. Public Health England (PHE) has spoken to those he come into contact with.[44]
Houston Texas: Reported on March 12, Harris County said a man between the ages of 40 and 50 from the northwest part of Harris County has a presumptive positive case of COVID-19. Officials stated it informed Church of Jesus Christ of Latter-day Saints in Spring about possible exposure to the case.[45]
28-Mar-2020 : A Latter-day Saint missionary serving in Mexico City was diagnosed with COVID-19, The Church of Jesus Christ of Latter-day Saints announced Friday. The missionary, who is from Guatemala, is experiencing mild symptoms. He and his companion are in self-isolation, according to a news release. The missionary's previous companion returned home to California two days ago and has also been placed in self-isolation. He is not showing symptoms. [46]
30-Mar-2020 : 2nd missionary tests positive for Covid-19.[47]
Adjustments for Returning Missionaries - CacheValleyDaily
The MTC is your Bedroom - SL Tribune.
68 Missionaries in Kiribati Leave Bags behind to help fellow missionaries - The Fiji Times shares great praise for their sacrifice during Covid-19 Evac flight.
Sister Nelson write letter to GA Wives - What Sister Nelson asked the wives of the General Authorities to do amid COVID-19, written the day before the start of the April General Conference.
Senior Missionary from Utah succombs to Covid-19 - Elder Allen Dee Pace, 68, of Willard, Utah, had served with his wife, Sister Nedra Pace, in the Michigan Detroit Mission since December. He passed away from complications brought on by the Coronavirus.
Utah Church Members start sewing 1 Million Facemasks - Pickup supplies from drive-thru center.
1700 Missionaries come home from Philippines - Squeezed into the MTC for quarantine.
38 Filipino LDS missionaries stranded in West Africa successfully return home - Joint effort by the LDS Church and Philippines Dept of Foreign Affairs.
Church member Bruce Morton reports on church life in a the Washington area stake impacted by Coronavirus Here's a little glimpse into Church in the heart of the Covid-19 outbreak. I live in the Snohomish county just north of Seattle. (Early March 2020)
The temple is closed
Church meetings are reduced to sacrament meeting only
Youth activities cancelled
No Relief Society weeknight meetings
No ward or stake activities or choir practice
Presidency meetings are encouraged to be remote
Young men are required to vigorously wash their hands and sanitize everything before preparing the sacrament.
In the chapel, every other row is reserved so that the deacons can pass to every individual. Nobody else touches the trays.
Some wards are putting the bread into individual cups.
Seminary will continue unless schools are closed. (Some schools have been shut down if a teacher or student tests positive.)
This will be in place through the rest of March, then they'll re-evaluate.
Missionary Impact
Church Welfare Assistance
Church is helping Iran, Italy, China and 13 other countries with medical supplies, ramps up food production - Latter-day Saint Charities is ramping up production at its canneries and food processing plants during the COVID-19 crisis, while at the same time donating medical and emergency supplies to 16 countries. The aid to Iran is happening through a partnership with Moms Against Poverty, which is licensed by the U.S. government to provide humanitarian aid to that country while it is under U.S. sanctions. [48]
Salt Lake Tribune - Reporter Peggy Fletcher Stack's big article on church relief efforts underway around the world. 25-Mar-2020
Chile Meetinghouse Hospital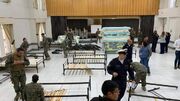 Church members in Chile are sharing photos on Facebook of LDS Meetinghouses being taken over by the military for use as an emergency hospitals. [49][50]
Historical News
References