Central Florida Home Centered Church Opportunities
We teach that true religion begins in the home: "Home Centered / Church Supported". To that end families may consider the following local resources and programs to strengthen your core beliefs and values:

1. Come Follow Me: - Daily & Weekly family gospel study
2. Vanguard Scouting: - Featuring age-appropriate Family Activities, Service, Crafts, Field Trips, & Outdoor Adventures. The Benefits of Scouting are many, and there are lots of personal growth ideas to help your family pursue the new Churchwide Children & Youth Program.
3. National LDS Homeschool Association: an LDS gospel based homeschool program Strengthening families by building connections, sharing resources, and providing training.
4. Family History: Resources to help you explore your family tree

5. Stripling Warriors on Facebook - LDS Children preparing to build Zion and around the world.
6. Local Recreation: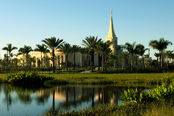 Fort Lauderdale Florida Temple is described in application materials as "an interpretation of Neoclassicism with arches, columns and a steeple." The temple features a sun and palm tree motif with beautiful murals in the first-stage endowment room, inspired by local landscapes. The new temple will serve members living in South Florida and the Bahamas.
See Also
References