2022 Stake Division
The Church of Jesus Christ of Latter-day Saints is growing in Kootenai County. A new stake has formed in Post Falls. Called the Post Falls Idaho Stake, it consists of approximately 3,100 members and will be presided over by President Bradley S. Moss with counselors Travis Roth and Timothy Bastedo.
"This division of stakes will create growth like we have never seen before," President Moss said. The weekend-long event to create the stake concluded on Feb. 20 and was presided over by Elder Mark A. Bragg, North America Area president, and Elder Siegfried A. Nauman, Area Seventy.
Elder Nauman stated, "We don't build new stakes without strength and growth of our members." Elder Bragg reminded the congregation, "Through unity, regardless of personal views, revelation will come, and we will be able to bless others as we attend church together and serve one another." Elder Bragg concluded the meeting with a blessing on the people of this area and a declaration: "We would have a temple in this area of our own, someday."

The Church organized a new stake in the Coeur d'Alene area on February 20th. The Post Falls Idaho Stake was organized from a division of the Coeur d'Alene Idaho Stake and the Hayden Lake Idaho Stake. The new stake includes the following six wards and one branch: the Lakeland 1st, Lakeland 2nd, Pleasant View, Prairie Falls, Timberlake, and the White Pines Wards, and the Plummer Branch. There are now three stakes in the Coeur d'Alene metropolitan area. There are now 137 stakes in Idaho. [1][2]
Kootenai County Home Centered Church Opportunities
We teach that true religion begins in the home: "Home Centered / Church Supported". To that end families may consider the following local resources and programs to strengthen your core beliefs and values:

1. Come Follow Me: - Daily & Weekly family gospel study
2. Vanguard Scouting: - Featuring age-appropriate Family Activities, Service, Crafts, Field Trips, & Outdoor Adventures. The Benefits of Scouting are many, and there are lots of personal growth ideas to help your family pursue the new Churchwide Children & Youth Program.
3. LIFE School Curriculum: an LDS gospel based homeschool program that is built on the foundation of the scriptures, giving the child a sense of who he is and setting him on the path of discovering his divine mission. It is presented in a four year chronological rotation, integrating all areas of study to create a clear picture of the history of our world.
4. Family History: Resources to help you explore your family tree

5. Stripling Warriors on Facebook - LDS Youth who strive to build up Zion across Idaho and around the world.
6. Local Recreation: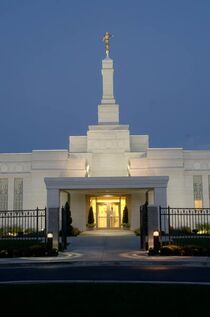 The Spokane Washington Temple is the 59th operating temple of The Church of Jesus Christ of Latter-day Saints. It is the second temple built by the church in the state of Washington. In March 2009, nearly a decade after its dedication, the Spokane Washington Temple received a new angel Moroni statue atop its spire. Instead of facing east as the
See Also
References