Estaca Cerro de Pasco Peru
Historia de Estaca
2021 Nueva Presidencia de Estaca
CERRO DE PASCO PERÚ STAKE: (Sept. 19, 2021) President — Wilber Giron Mauricio, 50, Pasco Public Technological Higher Education Institute academic secretary and teacher, and Francisco Bolognesi Integrated Private School teacher; succeeding Marco A. Maravi; wife, Rocio Veronica de Giron Daga. Counselors — Rudith Emerson Atencio Rojas, 42, nurse; wife, Milagros Mitzi de Atencio Valerio. Ernesto Luis Chamorro Vacas, 40, Regional Directorate of Energy Mines and Hydrocarbons of Pasco inspector; wife, Esmeralda Silvana de Chamorro Sanchez.[1]
Oportunidades de Iglesia Centrada en el Hogar de Peru
Enseñamos que la verdadera religión comienza en el hogar: "Centrado en el hogar / Iglesia apoyada". Con ese fin, las familias pueden considerar los siguientes recursos y programas locales para fortalecer sus creencias y valores centrales:

1. Ven, Sígueme: - Estudio diario y semanal del evangelio familiar
2. Vanguard Asociación de Scouts: - Con actividades familiares, servicios, manualidades, excursiones y aventuras al aire libre apropiadas para la edad.Los beneficios de explorar son muchas, y hay muchas ideas de crecimiento personal para ayudar a su familia a seguir el nuevo Programa de Niños y Jóvenes de toda la Iglesia.
3. LIFE Currículum escolar: un programa de educación en el hogar basado en el evangelio SUD que se basa en las bases de las Escrituras, que le da al niño una idea de quién es y lo coloca en el camino de descubrir su misión divina. Se presenta en una rotación cronológica de cuatro años, integrando todas las áreas de estudio para crear una imagen clara de la historia de nuestro mundo.
4. Historia Familiar: Recursos para ayudarlo a explorar su árbol genealógico
Pioneros Mormones - 200+ historias de los primeros pioneros fieles de los Santos de los Últimos Días.
Familypedia - Ven a ayudar a construir la enciclopedia en línea de historia familiar más grande de Venezuela.

5. Recreación Local: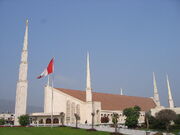 El Templo de Lima Peru es el 38 templo en funcionamiento de La Iglesia de Jesucristo de los Santos de los Últimos Días (Iglesia SUD) y el primero templo terminado en Peru (2015). Situado en el este de Lima, en el exclusivo distrito de La Molina, el Templo de Lima, Perú, acentuado por seis torres escultóricas, se eleva resueltamente sobre la muy transitada Avenida Javier Prado.
Ver también
Referencias