Stake History
President L. Tom Perry
L. Tom Perry (1922-2015) served in the LDS Church as an early-morning seminary teacher, as a counselor in a bishopric, high councilor, counselor in a stake presidency, and as president of the church's Boston Massachusetts Stake. Perry was called as a general authority and Assistant to the Quorum of the Twelve Apostles in 1972. The death of church president Harold B. Lee created a vacancy in the Quorum of the Twelve when Spencer W. Kimball, who had been serving as quorum president, became church president. Perry was sustained as a member of the Twelve on April 6, 1974, and was ordained an apostle on April 11, 1974.
2020 New Stake Presidency
BOSTON MASSACHUSETTS STAKE: (Oct. 18, 2020) President — Brandon Crawford White, 47, Charlesbank Capital Partners managing director; succeeding Kevin B. Rollins; wife, Amanda Burnett White. Counselors — James Lee McQuivey, 51, Forrester Research vice president and principal analyst; wife, Megan Kelly McQuivey. Mikael Lee Rinne, 45, Novartis Institutes of BioMedical Research senior clinical program leader and Dana-Farber Cancer Institute neuro-oncologist; wife, Tiffany Jean Widmer Rinne.[1]
Suffolk County Home Centered Church Opportunities
We teach that true religion begins in the home: "Home Centered / Church Supported". To that end families may consider the following local resources and programs to strengthen your core beliefs and values:

1. Come Follow Me: - Daily & Weekly family gospel study
2. Vanguard Scouting: - Featuring age-appropriate Family Activities, Service, Crafts, Field Trips, & Outdoor Adventures. The Benefits of Scouting are many, and there are lots of personal growth ideas to help your family pursue the new Churchwide Children & Youth Program.
3. LIFE School Curriculum: an LDS gospel based homeschool program that is built on the foundation of the scriptures, giving the child a sense of who he is and setting him on the path of discovering his divine mission. It is presented in a four year chronological rotation, integrating all areas of study to create a clear picture of the history of our world.
4. Family History: Resources to help you explore your family tree

5. Stripling Warriors on Facebook - LDS Children preparing to build Zion and around the world.
6. Local Recreation: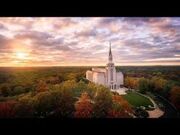 The Boston Massachusetts Temple is the 100th operating temple of The Church of Jesus Christ of Latter-day Saints. This was the first temple built in Massachusetts and greater New England. Standing atop a wooded granite hillside in the northwest suburb of Belmont, it is a striking landmark along the busy Concord Turnpike. The public is welcome to tour the grounds of the temple and adjoining meetinghouse, which feature a series of walkways that wind among the beautiful trees and meticulously landscaped grounds.
See Also
References