Stake History
23 Feb 2020 Stake Division
The Church organized a new stake in Bluffdale on February 23rd. The Bluffdale Utah Blackridge Stake was organized from a division of the Herriman Utah South Stake. The new stake includes the following six wards: the Alpine View, Aurora Vista, Juniper Crest, Lookout Ridge, Patriot Ridge, and Province Point Wards. There are now 10 stakes in Herriman. There are now 608 stakes and one district in Utah.[1]
Salt Lake County Home Centered Church Opportunities
We teach that true religion begins in the home: "Home Centered / Church Supported". To that end families may consider the following local resources and programs to strengthen your core beliefs and values:

1. Come Follow Me: - Daily & Weekly family gospel study
2. Vanguard Scouting: - Featuring age-appropriate LDS Family Activities, Service, Crafts, Field Trips, & Outdoor Adventures. The Benefits of Scouting are many, and there are lots of personal growth ideas to help your family pursue the new Churchwide Children & Youth Program.
3. National LDS Homeschool Association: an LDS gospel based homeschool program for strengthening families by building connections, sharing resources, and providing training.
4. Family History: Resources to help you explore your family tree
Mormon Pioneers - 200+ stories of early faithful Latter-day Saint pioneers.
Familypedia - Come help build Utah's largest Family History online Encyclopedia.

5. Stripling Warriors on Facebook - LDS Youth who strive to build up Zion across Salt Lake Valley and around the world.
6. Local Recreation: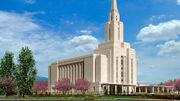 The Oquirrh Mountain Utah Temple is the 130th operating temple of The Church of Jesus Christ of Latter-day Saints. Standing on a beautiful bluff just west of highly traveled Bangerter Highway, the Oquirrh Mountain Utah Temple sits at the foot of the Oquirrh (pronounced O'-ker) Mountains, facing east toward a panoramic view of the Wasatch Mountains and the valley's other three temples: the Salt Lake Temple, Jordan River Utah Temple, and Draper Utah Temple. Lined with walkways, the picturesque temple grounds are open to the public for strolls around this magnificent House of the Lord.
References