Obi-Wan Finale - The Loop
Play Sound
Stake History
2019 New Stake Creation
On 9 June 2019, the Church organized a new stake from a division of the Lipa Philippines Stake (organized in 2001). The Batangas Philippines Stake includes the following five wards and one branch: the Batangas 1st, Batangas 2nd, Bauan, Rosario, and San Jose Batangas Wards, and the Ibaan Branch.
Additionally, the Church is scheduled to organize at least three more new stakes in the Philippines before the end of the month. Two of these stakes will be located in Iriga and Orion. I have not yet been able to confirm the location of the other new stake to be organized. Currently, there are 111 stakes and 66 districts in the Philippines.
Philippines Home Centered Church Opportunities
We teach that true religion begins in the home: "Home Centered / Church Supported". To that end families may consider the following local resources and programs to strengthen your core beliefs and values:

1. Come Follow Me: - Daily & Weekly family gospel study
2. Vanguard Scouting: - Featuring age-appropriate Family Activities, Service, Crafts, Field Trips, & Outdoor Adventures. The Benefits of Scouting are many, and there are lots of personal growth ideas to help your family pursue the new Churchwide Children & Youth Program.
3. LIFE School Curriculum: an LDS gospel based homeschool program that is built on the foundation of the scriptures, giving the child a sense of who he is and setting him on the path of discovering his divine mission. It is presented in a four year chronological rotation, integrating all areas of study to create a clear picture of the history of our world.
4. Family History: Resources to help you explore your family tree
Mormon Pioneers - 200+ stories of early faithful Latter-day Saint pioneers.
Familypedia - Come help build The Philippines largest Family History online Encyclopedia.

5. Local Recreation: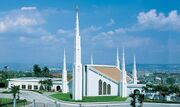 The Manila Philippines Temple is the 29th operating temple of the Church and is the first temple built in the Philippines (1984). Standing on a hilltop that overlooks the Marikina Valley, the Manila Philippines Temple anchors a complex of Church buildings including a temple annex, a patron housing facility, a missionary training center, and area offices. The beautiful grounds, open to the public, are filled with majestic palm trees and lush, colorful vegetation.
See Also
References