We're Getting Mutants in the MCU - The Loop
Play Sound
Stake History
2007 McCarthy Hill Stake Creation
The Kasoa Stake was formerly known as the Accra Ghana McCarthy Hill Stake when it was originally created in 2007.
(June 17, 2007) Created from the Accra Ghana Christiansborg Stake, Accra Ghana Adenta Stake and the Kpong Ghana District. President Philip Kwame Weah Yawson Xaxagbe, 55, Church area materials manager; wife, Agnes Youra Logo Xaxagbe. Counselors — Arnorld Ofoe Odonkor, 41, Church accounting services supervisor; wife, Sethrina Atsufi Degbortse Odonkor. Ekow Pieterson Ashon, 49, real estate administrative manager at Tracoaf Estates; wife, Bertha Tettey Ashon.[1]
2019 Stake Division
The Church created a new district in Ghana on August 11th.
The Church organized a new stake in Ghana on August 11th. The Winneba Ghana Stake was reinstated from the Winneba Ghana District. Additionally, part of the Accra Ghana Kasoa Stake was included in the new stake. The Winneba Ghana District was originally organized in 1989 and became a stake in 2014. However, the stake was discontinued when the stake was divided to organize the new stake in Swedru Ghana Stake in 2018. The reinstated Winneba Ghana Stake includes the following five wards and three branches: the Ansaful, Buduburam 1st, Buduburam 2nd, Kojo Bedu, and Winneba 2nd Wards, and the Apam, Awutu Breku, and Winneba 1st Branches. There are now 25 stakes and 11 districts in Ghana.
2021 New Stake Presidency
ACCRA GHANA KASOA STAKE: (May 9, 2021) President — Daniel Allotey, 38, Nautech Services Limited freelance seismic exploration specialist, Source-Link Company Ghana Limited president and CEO of Africa West and South Areas, and Allwuni Investments president and CEO; succeeding Samuel Annan-Simons; wife, Emma Memuna Mbawuni Allotey. Counselors — Joseph Susu, 54, building contractor; wife, Gifty Abusaki Ofoe Susu. Bernard Ghunney, 33, Rocka Foods Limited senior sales operations manager; wife, Alice Owusuaa Sarpong Ghunney.[2]
Ghana Home Centered Church Opportunities
We teach that true religion begins in the home: "Home Centered / Church Supported". To that end families may consider the following local resources and programs to strengthen your core beliefs and values:

1. Come Follow Me: - Daily & Weekly family gospel study
2. Vanguard Scouting: - Featuring age-appropriate Family Activities, Service, Crafts, Field Trips, & Outdoor Adventures. The Benefits of Scouting are many, and there are lots of personal growth ideas to help your family pursue the new Churchwide Children & Youth Program.
3. LIFE School Curriculum: an LDS gospel based homeschool program that is built on the foundation of the scriptures, giving the child a sense of who he is and setting him on the path of discovering his divine mission. It is presented in a four year chronological rotation, integrating all areas of study to create a clear picture of the history of our world.
4. Family History: Resources to help you explore your family tree

5. Local Recreation: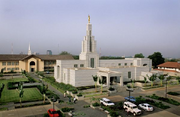 The Accra Ghana Temple is the 117th operating temple of The Church of Jesus Christ of Latter-day Saints (LDS Church) and the 1st temple completed in Ghana, after second African temple after Johannesburg South Africa Temple (1985). The tradition of holding a youth cultural celebration before the dedication of a temple began with the dedication of the Accra Ghana Temple at the request of President Gordon B. Hinckley.
See Also
References