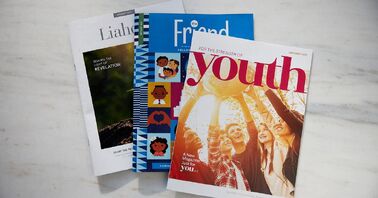 On 14-Aug-2020, The Church of Jesus Christ of Latter-day Saints announced a significant change to its regular periodicals. The first biggest such change since the introduction of the Ensign magazine in Jan 1970.
Changes Are Coming to Church Magazines in 2021Three magazines will serve Church members worldwide in new print and digital formats; "Ensign" title will be retired; youth magazine will have a new name.
Overview : 2020 Changes
beginning in January 2021, the Church will replace its four current magazines with three global magazines: the "Friend" (for children), "For the Strength of Youth" (for youth) and the "Liahona" (for adults).[1]
The current four magazines include three magazines in English—the "Friend" (for children), "New Era" (for youth) and "Ensign" (for adults)—as well as a magazine translated into many languages called the "Liahona" (with material for children, youth and adults).
This adjustment to the magazines will provide several benefits to Latter-day Saints around the world, including the following:
For the first time, families outside of English-speaking countries will have the opportunity to subscribe to magazines specifically for children and youth. Content will be shared more frequently in some areas and languages. The global Church family will receive the same unifying messages through the worldwide magazines.
Weekly YA Weekly Magazine (2018)
The real sleeper of the year 2020 was the introduction of the weekly YA Magazine in digital format. It is designed to serve all Young Adults - both Single and Marrieds (ages 18-31).
2021 Language Frequency
How frequently will I be able to receive a magazine?
Beginning in January 2021, print and digital magazines will be available each month in the following languages: Cebuano, Chinese, Simplified Chinese, Danish, Dutch, English, Finnish, French, German, Hungarian, Italian, Japanese, Korean, Norwegian, Portuguese, Russian, Samoan, Spanish, Swedish, Tagalog, Thai, Tongan, and Ukrainian.
In the following languages, print and digital magazines will be available bimonthly (six times a year). Additionally, selected magazine content will be available digitally in the months a print magazine is not available: Albanian, Armenian, Bislama, Bulgarian, Cambodian, Croatian, Czech, Estonian, Fijian, Greek, Icelandic, Indonesian, Kiribati, Latvian, Lithuanian, Malagasy, Marshallese, Mongolian, Polish, Romanian, Slovenian, Swahili, Tahitian, and Vietnamese.
In the following languages, selected magazine content will be available only digitally each month: Afrikaans, Amharic, Arabic, Burmese, Chuukese, Efik, Fante, Georgian, Haitian, Hiligaynon, Hindi, Hindi (Fiji), Hmong, Igbo, Ilokano, Kinyarwanda, Kosraean, Laotian, Lingala, Malay, Maltese, Nepali, Palauan, Pohnpeian, S. Sotho, Serbian, Shona, Sinhala, Slovak, Tamil, Telugu, Tshiluba, Tswana, Turkish, Twi, Urdu, Xhosa, Yapese, Yoruba, and Zulu.
Old International Distribution
Many of these languages have never had editions of Church magazines before, although some have had digital copies of select Church magazine content available online. There will be 23 languages with print and digital versions, 24 languages with bimonthly print versions and digital versions of select magazine content on remaining months, and 40 languages with monthly digital versions of select magazine content. Currently, the Church maintains editions of the Liahona in the following 48 languages (number of editions per year provided in parentheses)[2]
Albania (6)
Armenian (4)
Bislama (6)
Bulgarian (4)
Cambodian (6)
Cebuano (12)
Chinese (Simplified) (6)
Chinese (12)
Croatian (2)
Czech (6)
Danish (12)
Dutch (12)
English (12)
Estonian (2)
Fijian (4)
Finnish (12)
French (12)
German (12)
Greek (1)
Hungarian (12)
Icelandic (1)
Indonesian (6)
Italian (12)
Japanese (12)
Kiribati (6)
Korean (12)
Latvian (2)
Lithuanian (2)
Malagasy (4)
Marshallese (6)
Mongolian (6)
Norwegian (12)
Polish (4)
Portuguese (12)
Romanian (6)
Russian (12)
Samoan (12)
Slovenian (1)
Spanish (12)
Swahili (2)
Swedish (12)
Tagalog (12)
Tahitian (4)
Thai (12)
Tongan (12)
Ukrainian (12)
Urdu (3)
Vietnamese (4)
LDS Leaders Explain New Magazines
What General Church Officers Are Saying about the Changes to Church Magazines. [3]
Primary General President Joy D. Jones
"With all the challenges and opportunities in the world today, our children have never had a greater need for the strength, comfort, and guidance offered by the Savior and His teachings. We are thrilled that the new global Friend magazine will now reach children in 47 languages around the world, inviting them to follow Jesus together and to serve as He did."
Young Women General President Bonnie H. Cordon
"I love the name of the For the Strength of Youth magazine because the youth of the Church of Jesus Christ are strong. The youth around the world are all getting the same magazine, in their own language, with content created under the direction of the First Presidency just for them. They will find answers to their questions. The truth of their divinity as sons and daughters of loving heavenly parents will be renewed."
Young Men General President Steven J. Lund
"President Nelson has invited a worldwide response to a worldwide call to gather Zion. For the Strength of Youth will be a magazine worthy of such a majestic global mandate. If you liked the international focus of this year's first-ever Youth Music Festival, you will love the new youth magazine. The publication will focus on the value of diversity and offer a global perspective."
Sunday School General President Mark L. Pace
"Whereas the Come, Follow Me curriculum provides lessons each week for the family, the new structure of Church magazines can support adults, youth, and children with supporting materials based on each month's topics of study. Like Come, Follow Me, the new magazines can help strengthen members' testimonies of Jesus Christ and solidify their resolve to stay on the covenant path."
Relief Society General President Jean B. Bingham
"It is exciting to think of Church magazines for adults, youth, and children being available all over the world. More members can now have these blessings at their fingertips—from scripture activity pages for children, to stories from youth around the world, to articles about gospel principles for adults. And all of it with the intended outcome of increasing faith in God the Father and His Son, Jesus Christ. We are delighted that the First Presidency has been inspired to make this great gift available to more of God's children!"
References